Queensland National Parks/Facebook
In Australia a few things remain constant each year.
We can pretty much expect a new Prime Minister to come waltzing into the Lodge. NT News are sure to scoop up at least five 'expoosives.'
And it's a certainty that Australian animals will continue to behave in a bizarre, or hilarious, manner -- or both -- and make news headlines around the country with their antics.
Gaze back in amazement at the year that was when it came to Australia's quirky, cute, and sometimes terrifying fauna.
Bird On Vegemite Blanket Yells At Dog, Drops The C-Bomb
It's exactly as it sounds.
The bird has not only learnt to talk, it's learnt some of the worst swears around and uses them to bully a poor, speechless dog unable to fight back.
"F***ing c***!" Eric the corella screeches while perched atop a blanket emblazoned with the vegemite logo, making the clip all the more iconically Australian.
Rest assured, Eric is not a happy vegemite.
Seal Rides A Humpback Whale On NSW South Coast
This majestic seal hitched a ride on a humpback whale for a cruise off NSW's South Coast.
It's possible the creature is the animal embodiment of Poseidon himself, riding the waves once again to reclaim the domain of the ocean.
"When the creatures of the sea unite and emerge from the oceans in a quest to plunder our lands and claim the homes of land-dwellers, it will be this seal riding this humpback that will be the general leading the aquatic army," Huffington Post Australia reporter Josh Butler warned at the time of the sighting.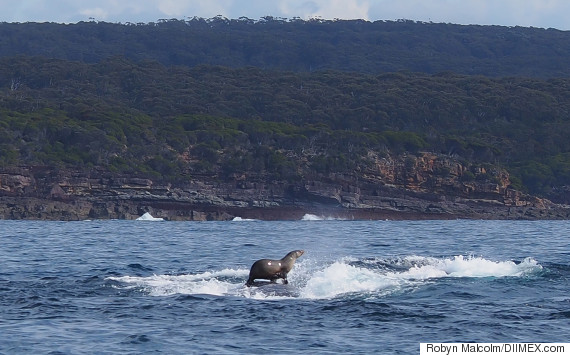 A Very Woolly Sheep Captured, Sheared
This very woolly sheep made headlines locally and internationally after amassing five years -- or forty kilograms -- worth of wool while lost in the bush near Canberra.
The mammoth rivals Shrek, another lost merino from New Zealand who after being caught got to meet New Zealand's then-Prime Minister.
Our woolly friend has received no such honour and campaigns continue for PM Turnbull to host an afternoon tea at the Lodge in the sheep's honour.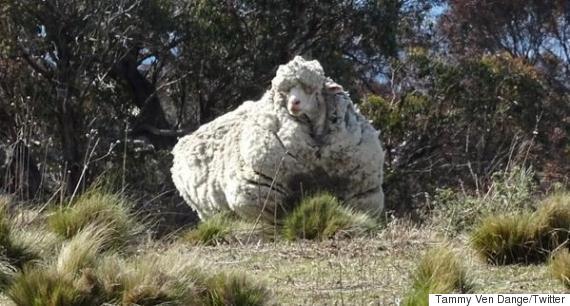 Giant Goanna Just Chilling On Side Of House
Most people would find the discovery of a giant lizard clinging to the side of their house a bit of a surprise -- to say the least.
But Thurgoona resident Eric Holland must not have been too shocked when he spotted the lizard -- as he kept cool enough to snap a shot of it waiting for a mate on his wall.
"I was just doing a repair job in my shed when I opened the door and I saw this huge thing run across the ground and out of sight," Mr Holland told The Border Mail.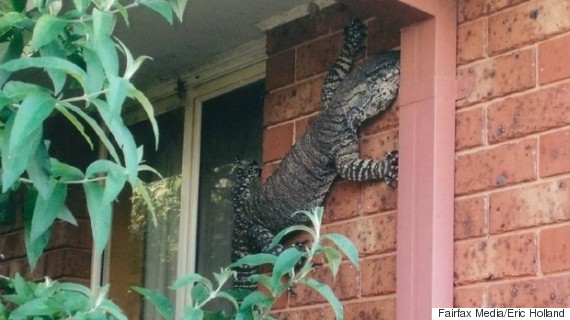 Two Kangaroos Having Sex, Spotted By A Federal Minister
No, rest of the world, we don't ride kangaroos to school. They just ride one another.
The Minister for Rural Health Fiona Nash spotted this pair of roos having a go while passing through Central Queensland.
#OnlyinAustralia, the Minister labelled the photo -- a hashtag that, in fairness, can probably apply to this whole weird collection.
#onlyinaustralia pic.twitter.com/nZhTNENvMS

— Fiona Nash (@SenatorNash) December 8, 2015
Terrifying Pictures Of Two Crocs Fighting Confirms You Need To Stay Away
A series of spectacular pictures of two crocodiles literally tearing each other apart just confirms what we already knew about the Great Southern Land: we're all doomed.
After contributing the above kangaroo shag, it's clear Queensland punches above its weight when it comes to animal-related quirk.
Only this time, it doubles as a warning to the rest of the world - visit the croc-infested sunburnt country at your own mortal peril.
Dog Stuck In Wombat Hole Rescued After Three Days Underground
Rescuers dug deep to save Brooklyn, a dog who became stuck after he chased a wombat into its hole at Nowra in southern New South Wales.
The official rescue attempt for Brooklyn was called off but the community of Nowra reportedly banded together to continue the dig, working into the night to save the dog.
Image of Brooklyn being carried after rescue emerges. @SCRegister https://t.co/7bFXaKB9aR pic.twitter.com/3hVl888Wud

— Jessica Long (@JLongSCR) November 6, 2015