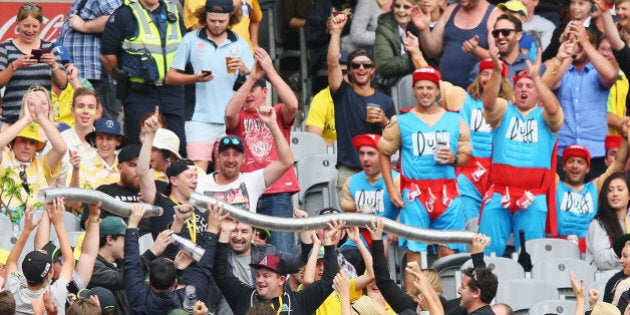 Summertime, and the living is angry.
Australian soccer fans and cricket fans are at each other's throats today, with officials from both sports weighing in to what started as a spat between members of the public.
This all kicked off after 90 fans were evicted from the MCG on day one of this week's Boxing Day Test. Offenses for which people were evicted included discharging "missiles" (which basically means throwing stuff), drunkenness, bad language and general "bad behaviour".
The Australian soccer community reckons that was pretty poor form on the part of cricket fans. They're especially inclined to feel this way because they're still smarting after 198 soccer fans -- who'd been banned from attending A-League games for a variety of serious and not-so-serious offenses -- were named and shamed by a Sydney newspaper earlier this year.
After the Boxing Day evictions, soccer fans wasted no time reminding cricket fans that they've got a little behaviour problem of their own.
Bad crowd behaviour in soccer is often portrayed as a cultural problem. In cricket, it's just seen as a few blokes who've sunk a few too many. This, as numerous soccerati tweeted, is a clear double standard.
The double standards also apply to security. As many soccer fans made clear on social media, cricket crowds champion evictees and boo security staff, often calling them "wankers" in mass chants.
It was at about this point in the escalating shouting match that Malcolm Conn fired up his fingers. Conn was a highly-credentialled and often combative journo in his day. These days he's communications manager for Cricket NSW and is Cricket Australia's media liaison guy in Sydney.
Wearing his private citizen's hat, Conn politely pointed out that police have the full official support of cricket authorities. Not only that, but the entire cricket community aren't threatening a boycott of future games in support of the ejected fans -- as soccer fans did in a recent A-League round. (The A-League walk-out issue was more complicated than all that, but it was still a reasonable point.)
Conn has form arguing with soccer fans on social media. More than once he has jousted with them over crowd figures and other issues. For example, A-League games usually struggle to attract 100,000 viewers on either pay TV or free-to-air. Big Bash games can reach a million or more. When Conn points this out he gets slammed by people whom he's previously called "grubs" -- probably with good reason given the tone and language of their comments.
The fondness for the g word is no doubt why Conn dragged it out of his lexicon to use this week against soccer folk who attacked him after this week's MCG evictions. That tweet now appears to have been deleted. But not before Football Federation Australia saw it. They clearly didn't think much of Conn's use of the g word.
Meanwhile, the whole debate soon turned into a race issue thanks to The Age sports journalist Rohan Connolly, who himself is hardly averse to a social media stoush.
Conn didn't think much of that comment.
Huffington Post Australia contacted Malcolm Conn today. On the race issue, he told us it irks him that cricket is often ridiculed by soccer fans as "pale, male and stale", or in other words, a bastion of an Australia which no longer reflects the modern demographic reality.
"Cricket is proud of its growing diversity both with the rapid increase of girls and women playing the game, and also in terms of the growing spread of people from around the globe," he told HuffPost Australia.
Conn, who was media manager for Big Bash outfit the Sydney Thunder last season, gave us a great anecdote about Sydney Thunder player Gurinder Sandhu, who grew up in Blacktown in Sydney's west playing in a team with only two fair-skinned players.
This, he says, is the face of Australian cricket now. It is a sport with both a wide following and a diverse cultural base. Conn believes two key things in all of this: That soccer is kidding itself if it thinks it's more popular or culturally relevant in Australia than cricket; and that yobbos should be chucked out of the ground no matter what sport they're attending, full stop.
Soccer authorities and fans believe one key thing: That cricket fans get it too easy. The spat continues.