xcape the city
Lucky West Aussies are playing host to the world's biggest, tallest, steepest inflatable water slide. Jealous much?
Imagine being 23 metres up in the air and hurtling your body down the most intense and largest inflatable slide (the second biggest lives in Monaco).
There's nothing like a giant water slide to bring the kid out in us all.
The Drop -- which is seven storeys tall, is currently appearing at a pop-up water park in Belmont, Perth. It's a twin lane, 23-metre high slide that is 110 metres in length -- equal to a seven storey building.
It's not for the faint hearted -- this journalist spied several people chickening out once they reached the top and realised how incredibly steep the slide was. First, you need to walk up 14 flights of stairs to get to the top of the slide where an attendant instructs you on the best way to launch your body.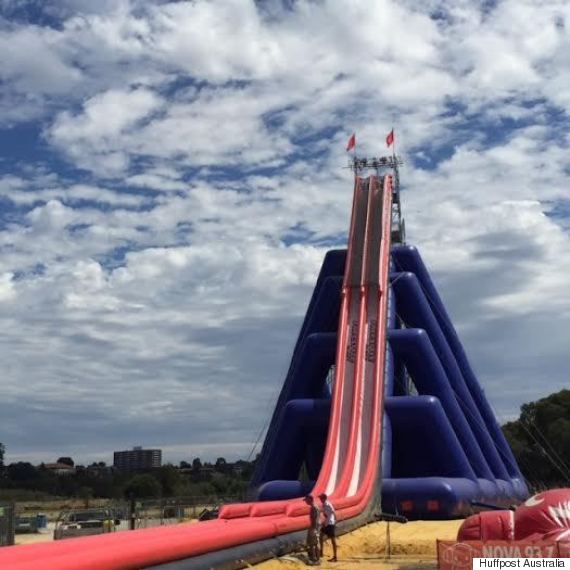 The Drop is not for the faint-hearted. Picture Huffpost Australia
Here are the rules: You must be at least 110 centimetres tall. You must be at least five years old. You must lie flat on your back, with your arms crossed across your chest. Bikinis are not a great idea, yet that didn't stop several teenagers from making the brave attempt. And in seven seconds, it's over. The screams and squeals can be heard from a fair distance, but it must be said the most common cry is, 'I've got a wedgie."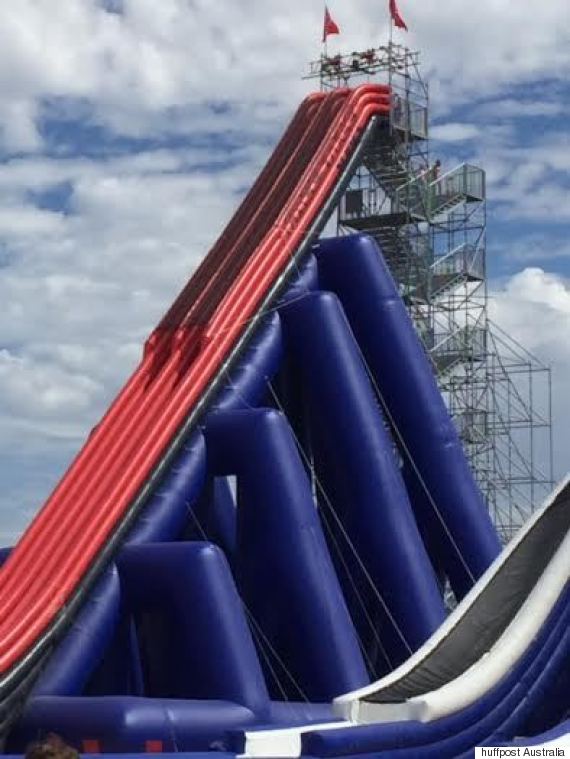 In other water slide-related news, the world's largest slip 'n slide is headed to Sydney, Melbourne and Perth this month. It's already been a huge success in London.
The company 'Slide The City' is setting up 300 metre temporary Slip 'N Slides in various city areas in Melbourne on January 10 and Sydney on January 15 and 16 with details to be announced for Woolongong, Gold Coast, Sunshine Coast, Townsville, Newcastle and Adelaide.
Ah, summer, we love you!