Facebook
Mark "Frosty" Winterbottom deserves a nice relaxing break. And right now, he's taking one. But we're guessing he might be chilling in a more low-key manner than you'd imagine.
Hint: his feet are really muddy.
Winterbottom, if you didn't know, won the 2015 V8 Supercars Championship. Frosty had previously finished second once, and third five times, in Australia's premier motor racing competition.
Everyone knows he's a cold, calculating driver who's really hard to get past. But would the 34 year old ever break clear of the field and win the whole shebang?
You wouldn't have thought so after the first few races this year. Frosty started moderately in his Ford. But he then won eight races in 13 starts. His last few races were nothing special, but his points lead was wide enough to claim the championship in his 13th year on the circuit.
Who said the number 13 was unlucky?
So here's a guy who spends his work days driving slick, shiny four-wheeled machines. Guess what his wife and manager Renee buys him as a reward for a great year? A slick, shiny two-wheeled machine in the form of a Harley Davidson, that's what. Nice.
But can our man wind down away from things that go really fast? Well, yes and no. All was explained as The Huffington Post Australia chatted to Frosty as he settled in for his summer break.
HuffPost Australia: We start everyone on this question, Mark. Choose wisely. Who would win a fight between a kangaroo and an emu?
Frosty: I'd say an emu. It's got speed and even if the body shots don't hurt, I'd say the emu should win it just through its reach. Yeah, the reach advantage has got it all over the kangaroo, plus there's not much body to hit on an emu.
HuffPost Australia: Very thoughtful answer. You're a calculated sort of guy out there on the race track too, aren't you.
Frosty: I'm strategic. There's not always outright speed but I'm quite strategic in terms of how I'll approach each race and the speed of the car. I don't crash often but I'll always be up there in the championship. Pick your days and pick your battles is my motto.
HuffPost Australia: Have things been hectic since you won the championship?
Frosty: It was in the week afterwards. We raced on the Sunday and won the championship, launched the new Bottle-O car on the Monday morning, had the gala on Monday night and then had the surgery on my ankle on the Wednesday. It's a strange way spend summer, recovering from a surgery. My wife is playing the patient wife and nurse which I really appreciate, but it makes it hard to go to the gym and also to play with my boys, who are five and three.
HuffPost Australia: That's the ankle you broke in a waterskiing accident five years ago in the off season, right?
Frosty: Right.
HuffPost Australia: So no waterskiing this year, we assume?
Frosty: I'm the ski boat driver this year.
HuffPost Australia: But you're still going water skiing with the family.
Frosty: Yeah, Christmas and New Year is purely all family time, absolutely no motor sport, but we go skiing for a bit up on the Murray River near Yarrawonga at a little place called Bundalong. We live the river life a bit.
HuffPost Australia: Sounds really chilled.
Frosty: It is. We stay in a family caravan with an annexe. It's a rusty old thing but it serves a purpose. The kids love it. They get in their undies and walk around, we cook on a barbie and a spit and just live life.
HuffPost Australia: You're a real man of the people.
Frosty: We work hard all year but I grew up in the western suburbs of Sydney and I'm not one of those people that have to have five star luxury. We live a normal life on holidays and it's the same when we come home. There's Taylor Swift on the iPod and no golden chandeliers on the ceiling. We try to teach our kids normal values about life. Up on the river you can be amongst CEOs but if you've got boardshorts and can ski, that's all people care about.
HuffPost Australia: Love it. Except that, as you mentioned, you can't ski this year.
Frosty: No I'm driving the boat.
HuffPost Australia: You described your wife recently as "no trophy girl", which we thought was nice. Tell us about the part Renee plays in your life.
Frosty: She plays a massive part. People think you just drive a car and rock up to a track and set a lap record but it doesn't work like that. We are sub contractors who contract to a team, a business within a business, and my wife covers all of that stuff. She's a wife, mother and manager. She's the point between me and my personal sponsors which are massive companies. She's got a business degree and is massively switched on. It's great to have someone who I know has my best interests at heart.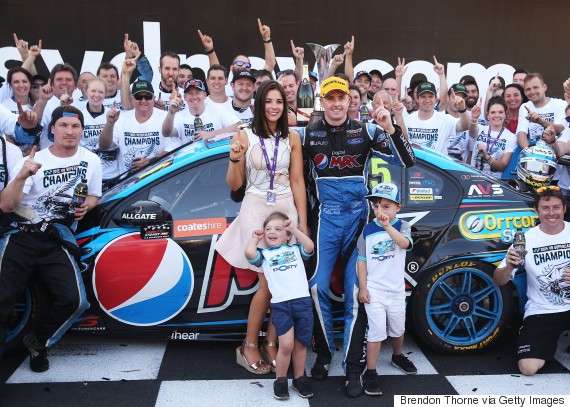 HuffPost Australia: You and Ford aren't a bad couple, either.
Frosty: I've always been a Ford man ever since I came up through Formula Ford [an entry-level racing series where many drivers like Winterbottom get their start]. Ford invested in me a long time ago and were my saving grace so my loyalty to them is huge.
HuffPost Australia: Away from the track, it's a tough time for Ford in Australia, isn't it.
Frosty: The company is in transition as Ford goes from manufacturing to importing. But there are still six Falcons on the grid compared to 15 Holdens, so to come come out on top was massively satisfying. The only car I've ever driven was a Ford Falcon. Flying the flag for Ford this year was very satisyfying.
HuffPost Australia: When are you back to work?
Frosty: Mid February is the first time we turn a wheel again. We only get three test days a year. Everything else is done through gym work and studying.
HuffPost Australia: Is the gym work tough?
Frosty: Seven sessions a week and some days you double-up.
HuffPost Australia: But you're taking it easy now, Mr ski boat skipper.
Frosty: I've got the exercise bike, but I'm trying to relax, yeah.
HuffPost Australia: When did you get your last speeding ticket?
Frosty: I haven't had one, touch wood.
HuffPost Australia: We're very impressed. Happy New Year, Mark. Here's to a back-to-back effort in 2016.
Frosty: Cheers mate.
Wait a minute. We thought his ankle was stuffed. Hmmm. We're going to have to call him back on this one. Stay tuned, everybody.