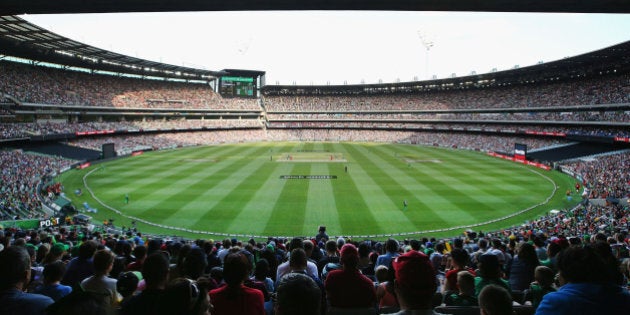 It really was a big bash tonight at the MCG -- as in a really big party.
The Big Bash Melbourne Derby between the Stars and Renegades had been expected to draw up to 50,000 spectators.
But in a sure sign that cricket is the new footy, and that Twenty20 cricket is increasingly the public's preferred form of the game, a massive 80,000 plus turned out for the game.
The new record smashes the previous high of 52,637 at Adelaide Oval.
The BBL has been around since 2011. Cricket commentators were originally unconvinced it could compete with the more well-established Test format of cricket, but recent crowd numbers demonstrate the growing interest the Australian cricket-going public have in the game.
"The thing about the Big Bash is that it's fun. Just good old-fashioned fun. This is not a crime. Some people make like cricket is part of this grand narrative of nationhood and identity. Very occasionally it traverses that territory. But can't cricket just be fun, too?"
Pundits were quick to point out the difference between Big Bash and Test cricket audience numbers in the past couple of days.
While others simply drank in the atmosphere.
The game was also well-supported by fans on social media, with the hashtags #BBL05, #WBBL01 and #watermelonboy dominating the top Trending Tweets.
And no, that last one isn't a bizarre typo -- there was indeed a young man eating a whole watermelon in the stands, egged on by the crowd and Channel Ten commentators.
"It's a tale of persistence and execution," said commentator Damien Fleming of the Herculean feat.
Earlier, the Renegades picked up a win against the Stars by five wickets and with just one ball remaining in the women's Big Bash league.