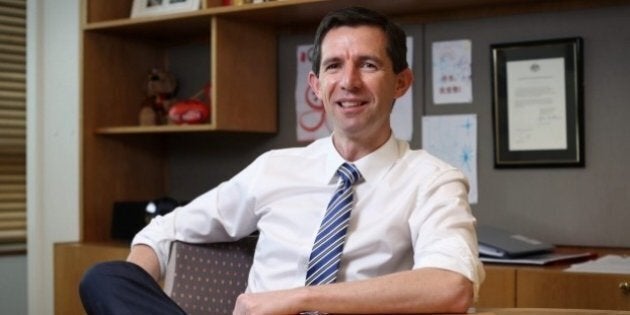 The closure of a childcare loophole stopping shonky operators accessing subsidies for minding their own children is saving more than $7 million a week, the federal government says.
What the government calls the "child swapping" loophole was closed in October, and Education Minister Simon Birmingham said on Sunday new statistics showed around $7.7 million a week was being saved.
The move comes amid debate about the escalating cost of childcare in Australia and claims fees will move even higher before new laws take effect in 2017.
Birmingham said the closed loophole had allowed day care service educators to receive a payment for their own children while also looking after other people's kids.
"These family day care services were designed to support parents who wanted to care for their own children, in their own home whilst earning a small income –- it was not envisaged that this opportunity would ultimately rip almost $8 million a week off of Australian parents and taxpayers," he said.
The government said the effort was part of an industry-wide crackdown on dodgy childcare operators that had saved taxpayers about $283 million.
Birmingham said the clampdown had so far resulted in $6.2 million worth of fines for 51 family day care providers.
He said about $15 million in errant child care payments had been recovered.
"Perpetrators of fraud are on notice -- you will be caught and there are severe consequences, including the possibility of jail time," Birmingham added.
On Saturday, the government reaffirmed its commitment to reform the childcare industry amid reports of lifting costs for families, especially in eastern states.
However, Birmingham has queried the numbers and says the new childcare package shows the average child care service in Sydney in 2017 will be around $10.75 per hour.
But he concedes there are ongoing problems in the sector.
"We accept well and truly that there are issues to be dealt with in child care. We are dealing with them," he told reporters on Saturday.
The news of the childcare clampdown follows Birmingham's announcement last week that he would not pursue the last 2 years of the Gonski reforms, leading to heavy criticism from Labor.