2015 beat heat records as well as being the driest on record for parts of the nation and the Bureau of Meteorology's annual forecast shows conditions are likely to continue in the first half of 2016.
Not only was 2015 Australia's fifth-warmest year on record with below-average rainfall, the month of October was the warmest on record, including the hottest individual heatwave -- and the state of Victoria ran at a record-breaking six degrees hotter than average across the month.
Globally, 2015 was the hottest year on record and University of Melbourne Professor of Atmospheric Science David Karoly said we shouldn't be overly reassured by the fact that it was only Australia's fifth-hottest year.
"Australia's temperature was only marginally lower than the record that was set in 2013 -- about a 10th of a degree, and that difference is really not important," Karoly said.
"Many countries across the world did not set records for that individual country but in fact it's when you combine the temperatures together, we find the variability from location to location is smoothed out and you see more countries were a bit warmer than average."
Bureau of Meteorology Climate Monitoring Manager Karl Braganza said Australia's hot conditions were partly caused by weather event the El Niño, which has peaked in recent weeks and was expected to decline during the coming months.
"Based on the historical relationship between El Niño and global surface temperatures, it's likely that the record heat will extend into at least the first half of 2016," Braganza said in a video.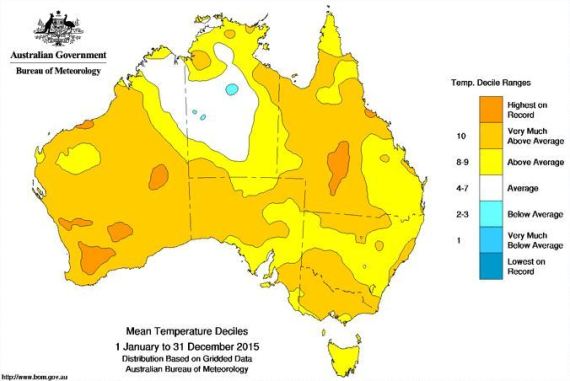 The bureau's annual climate statement also detailed the conditions creating Queensland's devastating drought, as well as record dry spells in southern Australia.
The regions that experienced annual below-average rainfall included most of Queensland, parts of the Northern Territory's Top End, Victoria, South Australia, Tasmania and parts of Western Australia.
The lower-layer soil moisture indicator showed 2015 was the driest on record for large patches of Queensland, Victoria, South Australia and parts of Western Australia.
"The combination of spring heat and low rainfall resulted in much drier than ever soil moisture this contributed to reduced stream flows and an early end to Southern Australia's dam-filling season," Braganza said.