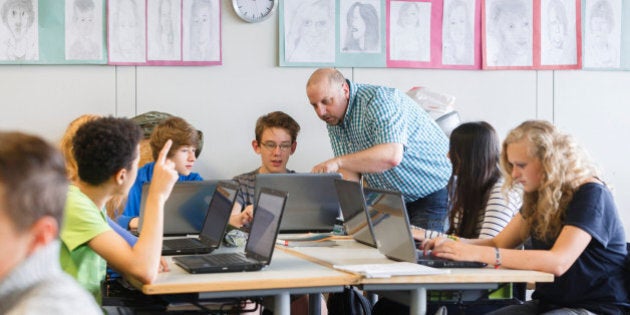 A pledge to get 10,000 children coding in Australian schools by December 2016 has become the ambitious New Year's Resolution of a Melbourne based education startup, Code the Future.
School teacher Bec Spink and digital marketer Will Egan partnered to create a website connecting volunteer developers with teachers and schools to teach students how to code.
"It is through these partnerships that students will be provided with authentic, real world opportunities and have the chance to take coding to the next level in schools. Any age, any language," Spink told the Huffington Post Australia.
Egan raised his concerns about the future at a Melbourne Knowledge Week meet-up, where he collaborated with Spink who agreed something needed to be done to give students the skills to code.
"The way the world's moving every person is going to need to know how technology works," Spink said.
"By teaching children at an early age, they are becoming confident, creative, problem solvers and critical thinkers."
Founded in November 2014, Spink said the rapid growth the startup has seen is phenomenal.
"Over 2,000 teachers signed up and over 800 developers signed up in less than a year," Spink said.
"It is obvious that people want what we are offering."
A recent position paper by Australia's chief scientist, however, cited a 2014 survey which found seventy nine per cent of mathematics teachers surveyed reported that students entering their courses had either a poor maths background, or significant gaps in their mathematical knowledge.
It also said many aspiring teachers displayed significant levels of 'mathematics anxiety'.
"To lift our game, we must collaborate to develop an agreed national minimum curriculum and standards in science, technology and mathematics for primary school pre-service teachers," the report, Transforming STEM teaching in Australian
primary schools: everybody's business, said.
Spink and Egan are committed to reaching their goal through industry collaboration, partnerships with progressive educators and a strong team of registered volunteer computer programmers.
Code the Future is run as a not-for-profit business, but received a small private sponsorship used to build the company's website. Egan and Spink are hoping to get government funding.
The announcement of the startup's goal comes amid Prime Minister Malcolm Turnbull's 'Ideas Boom' announcement, touted to stimulate Australia's best minds.
The announcement addressed declining participation rates in science, maths and computing at high school. One of the government's priority areas includes training Australian students for "jobs of the future."
Spink said the Code the Future programs will allow students to not only use technology, but to use it in a way that suits them.
"The possibilities are endless," she said.
Along with the recent endorsement of the new Digital Technologies subject in the school curriculum, Code the Future will take coding into the classroom and spark the next generation of entrepreneurs.