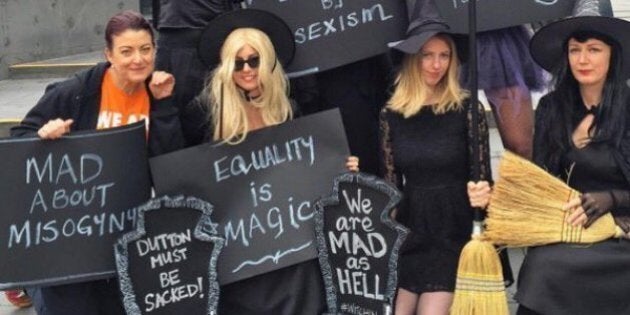 The fallout from Peter Dutton's "mad f***ing witch" gaffe text continues, with a veritable coven of women dressing as witches on Friday to call for his resignation.
Since the gaffe was made public, social media networks have been populated by women trying to reclaim the word "witch". On Friday, groups of women dressed in Halloween-style witches garb and took to Melbourne's Federation Square and assembled outside Dutton's electoral office in Queensland to call for his resignation.
Dressed in pointy hats, brandishing broomsticks and with slogans painted on mock gravestones -- "NOT charmed by sexism," "Equality is magic," "We'll put a spell on patriarchy" -- the women posted pictures of their demonstrations on Twitter under the hashtags #TheDuttonWitchProject and #Witchin.
"We're trying to bring attention to the whole idea of reclaiming the word witches as a positive word. This blokey attitude in the parliament -- even if the text was sent by mistake -- this misogynistic atittude of calling women 'mad witches' is not the way women want parliament to be run," she said.
Prime Minister Malcolm Turnbull has resisted calls by Labor and the Greens to punish Dutton for the text, only releasing a short statement saying, "As I advised the minister yesterday, his language was clearly inappropriate as he recognised by apologising immediately to Ms Maiden".
HuffPost Australia has contacted Dutton's office for comment.