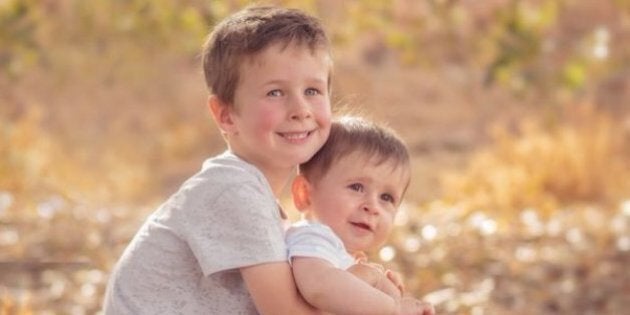 Damien Little and his two sons all sustained gunshot wounds before their car was driven off a Port Lincoln wharf on Monday, police have revealed, as the boys' mother released a heartbreaking statement expressing her grief at the three deaths.
Little's station wagon drove off the Brennan's Wharf at speed on Monday, plunging into 30 metres of water. Little, and his sons Koda, four, and Hunter, 10 months, all died. South Australian police previously said they had found a rifle in the car, and on Friday afternoon confirmed autopsies had found all three males had suffered gunshot wounds.
Superintendent Paul Yeomans said a report to the coroner, following the investigation, would detail domestic violence and mental health concerns.
Little's wife, Melissa, released a statement on Friday in memory of her sons and her husband.
"Damien was my childhood sweetheart who became my loving husband. He was also a father who loved his two children very much," she wrote.
"Damien valued and appreciated our close-knit family, he put us first, we were his whole world."
Melissa said she hoped her husband would be "remembered as a well-respected and valued member of our family and our community."
She said his death had "left a huge hole in [her] heart" before paying tribute to her two sons.
"My two precious boys have left this world way too soon and my heart is broken. I will miss them and think about them each and every day. Their futures were full of endless possibilities," Melissa wrote.
"Koda had the biggest heart, so loving and caring. He always loved a hug, had so much enthusiasm and was a willing helper."
"Hunter was such a happy, content and smiling baby. His laughter was infectious and his cheeky little personality was just beginning to emerge."