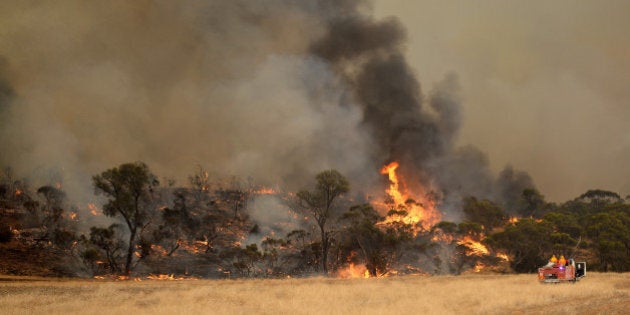 Firefighters are out in the field for a fifth straight day battling a bushfire south of Perth that has destroyed at least 130 homes, with two bodies discovered in the razed town of Yarloop.
An emergency warning is in place for east of Waroona and surrounding areas, with authorities urging residents to take action now to protect themselves.
Hundreds of firefighters are out in the field trying control the uncontained blaze that has torn through about 70,000 thousands hectares of land since it started on Wednesday.
The current emergency warning includes "east of Waroona, Hamel, Cookernup, Yarloop, Harvey townsite and surrounding areas. It doesn't include the Waroona townsite", The Department of Fire and Emergency Services (DFES) said on its website.
Western Australian authorities say weather conditions have eased but advise that there is still a threat to lives and homes in Cookernup, Wokalup and Harvey, about 140 kilometres south of Perth.
A thuderstorm is also on the radar which could fuel the massive blaze if it results in lightning strikes.
On Saturday, human remains thought to be of a two elderly men were found in the fire-ravaged town.
No formal identification has yet been made but the remains are thought to be of two men, aged 73 and 77.
Western Australia Premier Colin Barnett visited Yarloop on Saturday where the damage is so bad it is said to have wiped the historic mill town off the map.
Barnett paid tribute to firefighters and the community, declaring the fire an official natural disaster.
The fire, which has a perimeter of 226 kilometres, is thought to have been initially sparked by lighting strikes.
The Department of Fire and Emergency Services (DFES) advised those in the emergency warning zone to leave, if possible.
"Unless you are ready and prepared to actively defend your property, evacuate to the south via the South Western Highway if safe to do so," it said on Sunday morning.
"The bushfire is moving in a easterly direction. The fire remains uncontained and is not yet controlled.
"Burning embers are likely to be blown around your home."
The ABC reports that about 250 firefighters have been battling the blaze and about 60 firefighters have been flown in from NSW to provide extra help.