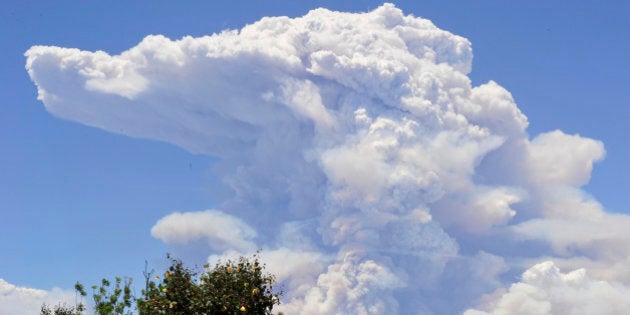 Three people who were unaccounted for during a devastating bushfire that ripped through parts of Western Australia have reportedly been found safe and well, after almost 100 homes were destroyed when the fire went through the small town of Yarloop, south of Perth.
The three were found safe and well on Friday as emergency services continue to evacuate residents.
Firefighters are expected to work through the night in an attempt to contain the out-of-control fire. Historical buildings, factories, and workshops have also been destroyed.
The fate of three other people was unknown.
Weather conditions indicate there is little reprieve in sight for those communities affected, with strong winds pushing the fast-moving fire in a southwesterly direction. A DFES spokeswoman said fire authorities expected the fire to be "protracted" and to continue for the next couple of days.
"I believe we've had what I would suggest catastrophic losses within Yarloop. It will have and has had a major impact on that community," WA Fire and Emergency Services commissioner Wayne Gregson said.
Yarloop Bowling Club president Ron Sackville told Radio 6PR the town was essentially destroyed.
"There's very little of Yarloop left. I couldn't get all the way down there but understand the steam museum is gone, there are only about eight houses left, the post office survived, the pub is gone, the bowling club survived," Sackville said.
"Fortunately I have a firefighting pump and house and managed to save our house and the horses that were in the paddock -- they are in the backyard now... But I look around 360 degrees and everything is burnt to a cinder. I think the post office is the only building left standing [in the main street]. The fire was horrendous."
"It was just something you'd see in the movies, it just come down from the hills and then the wind picked up behind it and on dark and it just come flying down the hills," dairy farmer Joe Angi told PerthNow.
"We could hear a roaring noise, at first I thought it was a bomber dropping water and then I realised it wasn't, it was actually the fire and I said to my brother 'we need to get out of here.'"
The Department of Fire and Emergency Services has warned residents their lives are in danger and they must act now to survive.
"Sadly we have three people unaccounted for from Yarloop. We are making inquiries … at the moment," WA Fire and Emergency Services commissioner Wayne Gregson said.
Conditions are expected to remain challenging for firefighters, with about 150 fire trucks currently battling the blaze and an aerial fleet conducting waterbombings. The fire remains out of control and has broken containment lines.
"[It's] pretty much a very, very difficult weather situation we are facing both yesterday and today," a Bureau of Meteorology spokesman said.
"We've got northeasterly winds that are going to blow through the fire zone for the bulk of this morning and into the afternoon," he said.
The fire was sparked by lightning on Wednesday morning but escalated to an emergency warning that night.
It's since burnt through more than 53,000 hectares of land.
Evacuation centres have been set up at Murray Leisure Centre, 16 Camp Road, Pinjarra and Leschenault Leisure Centre, Leisure Drive, Australind.
The Bureau of Meteorology has predicted some rain will fall over the fire sites in the next few hours, but authorities are concerned the rain could also bring lightning and the risk of further fires being sparked.
Traumatic natural events can be extremely challenging for those directly affected. If you need help in a crisis, call Lifeline on 13 11 14.