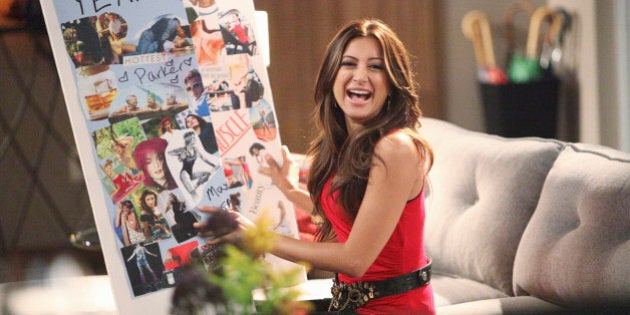 Visual manifestation is the belief that by making a vision of your hopes and dreams, you are more likely to follow them through to fruition.
While the powers of manifestation date back to ancient times, the theory was made mainstream with the American book and DVD The Secret, in which they explore the law of attraction principles and making vision boards.
Sure, this type of thinking isn't for everyone, though some swear by it. It has been reported that even Oprah is a big fan.
"I was speaking with Michelle [Obama] and Caroline Kennedy and Maria Shriver -- we were all doing a big rally out in California. At the end of the rally Michelle Obama said something powerful: '…I want you to leave here and envision Barack Obama taking the oath of office'. I created a vision board. I had never had a vision board before. I came home, I got me a board and put Barack Obama's picture on it, and I put a picture of my dress I want to wear to the inauguration," Oprah said.
So, what should be on your vision board?
"Vision Boards are created to ground and inspire. They connect you to who you are (your authentic self) and what you're about (your passions), and allow you to set intentions and gain clarity and focus on your aspirations," Wellness Coach Melissa Barker told The Huffington Post Australia.
"I believe the most powerful and valuable vision boards are a representation of a person's past, present, and future which are full of passion, meaning and aspiration for the creator."
The premise is that if you see it regularly, the reminder will help you focus on reaching that goal.
"Many vision boards focus solely on the future however, I believe the above approach is more powerful. The past allows us to recognise all the we have achieved and what's important to us, and the present allows us to make choices that support our best self right now. These are essential elements to staying grounded and authentic when pursuing our goals and dreams, which allow us to experience greater fulfilment and meaning throughout the journey," Barker said.
In the digital age it's unlikely you'll have printed photos lying around let alone piles of magazines to cut and paste from. The solution? Go digital.
If your Photoshop skills are decent you can create a collage there, otherwise there is a selection of great online tools to guide you.
Dreamitalive.com offers do-it-yourself free online vision boards, breaking them down into catagories such as Love and Romance, Weath and Prosperity, Travel and Adventure and Mind and Soul -- among others. You then either choose images from their library or upload your own (or a combination of both) to create your collage.
A vision board is very personal and no two should be the same. If you're looking to change careers you could use an image that represents the new industry you are hoping to go into. If you want to start a family then imagery of a baby might work for and, and if you are saving for a house, represent that in pictures, too.
Another important part of visual manifestation is being able to see your goals regularly.
"Place or hang your vision board where you can see it every day. It may be your desk, your bedroom, or living room," Barker said.
If you've gone digital, make it your computer or tablet screensaver.
"Authenticity is best. Only use words and images that best represent you and that inspire positive emotions in you," Barker said.