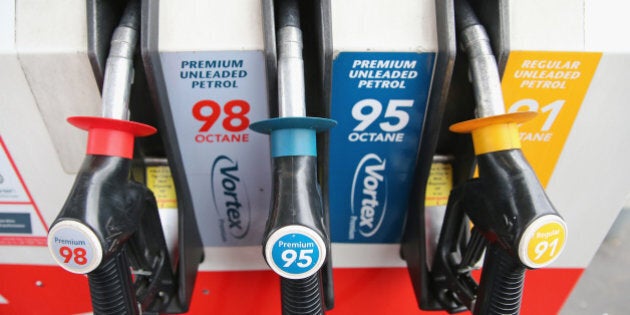 Australians are winning at the petrol pump right now, with the cost of fuel hitting its lowest level in 10 months.
But motorists are being urged to fill up fast as experts warn the price of petrol is likely to rise over the next few weeks.
The national average price of unleaded petrol fell 2.4 cents per litre to 119.8 cents per litre last week, its lowest point since early 2015, according to the latest Australian Institute of Petroleum (AIP) figures.
The AIP data also showed prices have fallen further in the city than in the country, with the metro petrol price falling 3.1 cents to 117.9 cents per litre. The regional price fell by 0.9 cents to 123.8 cents per litre.
There are also big differences across capital cities.
In Sydney, unleaded petrol reached an average 113.4 cents a litre on Tuesday up from a low of 105.9 cents on Sunday, petrol price monitoring website MotorMouth said.
Melbourne residents are paying significantly more, with the latest average unleaded price recorded at 121.5 cents, according to Motormouth.
The difference across major cities has led to speculation of price gouging by petrol retailers but the Australian Competition and Consumer Commission (ACCC) has consistently found the retail petrol market is competitive.
Commsec's Craig James tipped the average price of petrol to remain depressed.
"The good news ... is that petrol prices continue to fall with pump prices in Sydney trading below cost price," he said. "Pump prices are set to remain low."
Mr James told Fairfax Media he expected the national petrol price to remain around 120 cents, but that it could go even lower, largely on the back of low global oil price.
"OPEC are determined to keep the market well supplied with oil and unless that policy was to change then it's likely motorists will continue to experience discount," he said.
There are a number of factors influencing moves in petrol prices at the bowser.
International Benchmark prices
To meet Australian demand, around 40 percent of fuel is imported, mostly from Asia. But it only makes commercial sense for Australian refiners to import fuel to Australia if the returns they're getting for it are on par with selling it in Asia.
For that reason the price of fuel in Australia is "benchmarked" against the price in Singapore, where most fuel is traded. That means when the price rises or falls in Singapore it has a knock-on effect in Australia.
The relationship between Australian and Singapore prices can be seen here.
As the ACCC points out , international benchmark prices for petrol, diesel and LPG are priced in US dollars, so the strength of the local currency can affect the price of petrol.
That means as the Aussie falls against the greenback it can be the case that the cost of fuel goes up.
However, that's only the case if the benchmark price remains the same or falls and other local impacts don't push prices up.
Another key driver of Australian petrol prices are ebbs and flows in global oil supply and the related rise and fall in crude oil prices.
Currently, a big driver of low local prices is said to be the booming global supply of crude oil, the result of which has been a crash in its price.
These include the profit margins of wholesalers and retailers, which are ultimately determined by the level of competition in the marketplace, as well as costs like wharfage, freight, insurance, transport and storage that can fluctuate.
In the short term, NRMA's Peter Khoury tipped the price of fuel to rise from its recent very low mark.
He predicted average national prices to get back to around the 130 cent mark , but conceded it was difficult to pinpoint how fast that would happen given volatile overseas factors like oil prices.
"It's really difficult to forecast long term beyond the price cycle and that's what we tend to do," he told The Huffington Post Australia.
"In the short term there's no indication that prices are going to go through the roof."
Commsec's James said the average household was currently saving around $17 a month on filling up the car with petrol compared with three months ago.
That saved cash would help boost consumer spending on big-ticket household items, he said.
"Given that Aussie consumers believe that their finances are far better than they were a year ago, many believe it is a good time to buy a major household item like a television or refrigerator," James added.
He said the lower prices were also good for businesses, especially those in the retail, transport and aviation sectors.