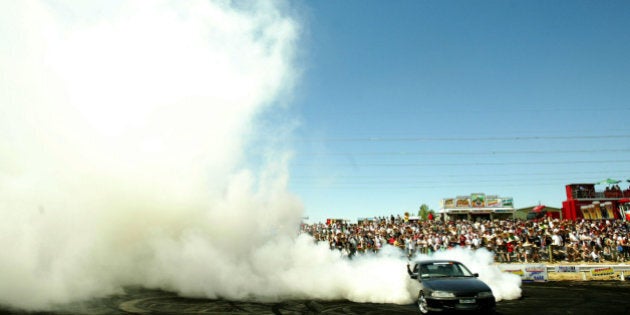 A record number of cars are expected at this weekend's Summernats festival as Canberra's streets are filled with the roar of engines, the smell of burning rubber and thousands of rev-heads.
Australia's largest car show is in full swing in the national capital as huge crowds of motoring enthusiasts gather for four days of festivities including burnout championships and events with names like "tuff street monsters judging" and "horsepower shootout."
Weekend highlights include a fireworks display and a show by iconic Aussie rockers Hoodoo Gurus on Saturday then the finals of the "Liquid Moly National Burnout Masters finals" on Sunday.
Up to 100,000 people are expected to attend the event which kicked off on Thursday and in 2016 celebrates its 29th year.
A spokesman for the event, Jos Roder, told The Huffington Post Australia that a record breaking number of vehicles would likely roll through Canberra's Exhibition Park.
"It's looking like it may go close to the magical 2000 mark this year as far as entrants," Roder said.
"If we get to that number it could be a record."
Roder said attendees this weekend had been well-behaved and there had been no unruly behaviour reported to police.
"There has been no official police involvement or incidents," he added.
The only unfortunate aspect so far has been the injury of a worker who was reportedly burnt after methanol ignited at the refuelling depot inside Exhibition Park on Thursday night.
As well as showcasing hotted-up cars, the fesitval was in the past known for its blokey atmosphere and even used to include a Saturday night strip show.
The strip show was cancelled after new management took over in 2009 and an effort was made to make the event more family-friendly.
Some social media posts on Saturday seemed to hark back to an earlier time.
The event injects millions of dollars into the ACT, with Summernats co-owner Andy Lopez describing the economic impact as huge.
"When you've that level of interstate visitation, it creates a huge economic impact in the Territory," Lopez told News Corp Australia.
"Summernats is worth just shy of $21 million over the four days, which is great for what's traditionally a fairly quiet time of year."
One sector said to be boosted is the city's sex shops which are seeing an influx of visitors as motoring fans take time out from the car show.
The ABC reports that it is the best time of the year for some local adult entertainment providers.
At least one prominent adult entertainment venue is advertising special offers online for the Summernats weekend.
One Canberra adult novelty store reported that sales were up 50 percent and would probably get more of a rise before the event closed on Sunday night.