ASSOCIATED PRESS
Hackers with a potty mouth and a few Australianisms took control of U.K. Labour leader Jeremy Corbyn's account over the weekend -- and a warning: there's offensive language in this story.
Tweets from the Opposition Leader's account included one simply saying the less-than-classy Australian slang "Straya c---s".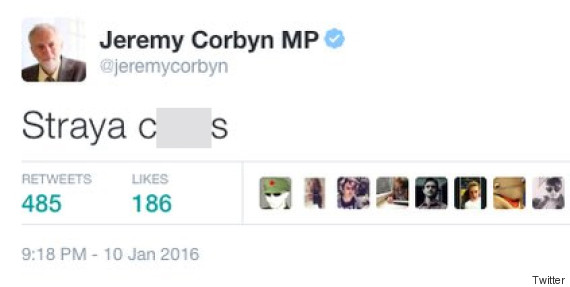 Other tweets said 'davey cameron is a pie' referring to U.K. Prime Minister David Cameron, and 'f--- trident' in relation to Britain's contentious nuclear weapons program Trident, which Corbyn wants scrapped.
The Tweets were quickly deleted but were unsurprisingly retweeted and now users are having fun with the hack, suggesting the politician's frank Tweets should earn him a knighthood.
Okay guys, who hacked Jeremy Corbyn's Twitter account?

No seriously, Her Maj wants to knight you. pic.twitter.com/TOonoqGPUi

— Duchess of Cambridge (@HRHCatherine) January 10, 2016
The Labour leader is in the middle of a contentious debate to change party policy to advocate the scrapping of Britain's nuclear weapons -- with three party members threatening to resign.