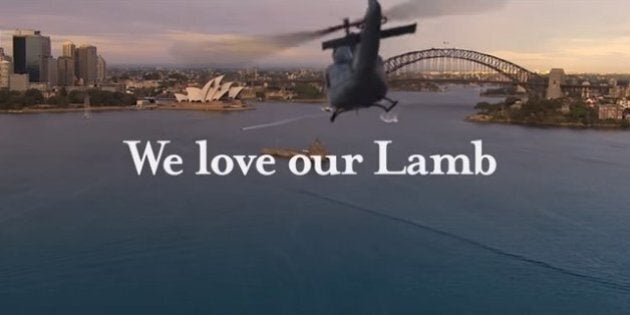 An Australian vegan group has launched an attack on the latest Sam Kekovich lamb ad, saying they are tired of being the butt of jokes and compared their treatment to racist blackface depictions.
Controversy has swirled around the 'we love our lamb' campaign, released annually in the lead-up to Australia Day by Meat and Livestock Australia. This year shows SBS newsreader and internet cult hero Lee Lin Chin helming the 'Operation Boomerang' mission to "save as many overseas Aussies as possible from a lambless Australia Day".
Special forces soldiers fly low in helicopters and abseil through windows to rescue overseas Australians and bring them back home for January 26 because -- as the ad says -- "you never lamb alone on Australia Day".
The sticking point has come from a scene midway through the ad, where soldiers bus down the door of an Australian living in Brooklyn, New York, who fearfully admits "but I'm a vegan now." The music drops dramatically, as Chin disapprovingly tuts "vegans," and the Brooklyn vegan's table is set alight by a flamethrower.
Fiona Jolly, CEO of the Advertising Standards Bureau, told The Huffington Post Australia the organisation had received 250 complaints about the ad by mid-morning, centering on the ad's alleged vilification and condoning of violence against vegans as well as the name of the fictional military operation. 'Operation Boomerang', she said, was alleged by some to be insulting due to its indigenous connotations and the ad's link to Australia Day, which celebrates British colonisation of the country and is referred to by some indigenous groups as 'Invasion Day'.
Greg McFarlane, director of Vegan Australia, told HuffPost Australia vegans were becoming sick of being targeted for fun.
"One way to look at it is, if it was advertising pork and they were torching the house of people not eating pork for religious reasons, that would be totally unacceptable. I can't see the difference between people who don't eat meat for religious reasons and people who don't eat meat for ethical reasons," he said.
"We're aiming for a future where being a vegan is a serious point of view, and a lot of people are upset and consider [ads like this] an attack on their ethics."
McFarlane claimed Meat and Livestock had made veganism a joke in past campaigns, including the 2014 lamb advertisement where the child of vegans is given a lamb chop and a giant baby then tramples a picnic where people are eating tofu.
He said he hoped community standards would change, but refuted claims vegans were being too sensitive about the ad.
"Community standards are evolving. When I was a kid, people could go on TV dressed as black people and insult them, have fun at their expense. Now, that's no longer acceptable; in time, the people who defend the rights of animals will be treated better," McFarlane said.
"Veganism is definitely still a cheap joke in certain parts of society. It's wrong to say people with ethics don't have a sense of humour. It's not a problem about humour but about the underlying ethics of the humour."
Jolly said complaints to the Advertising Standards Bureau would be collected then sent to the MLA, which is then expected to address each of the complaints and explain why the ad does not breach advertising guidelines. However, she said complaints relating to vilification of vegans were unlikely to be upheld, as advertising codes did not provide protection for groups like vegans.
"The code, in relation to those issues, says you can't vilify people on religion or ethnicity. Veganism doesn't come under that, [so complaints] won't be strongly looked at under that," Jolly said.
"The code prohibits the use of violence unless it is relevant to the product. It might be relevant to the concept in the campaign, but if it's violent then it can't be used in an ad."
Meat and Livestock Australia has been contacted for comment.