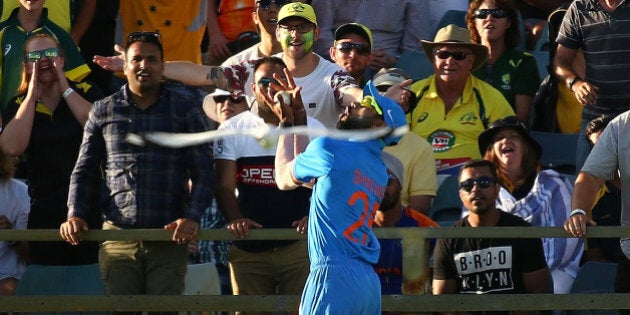 Australia has beaten India by five wickets in the first of five One Dayers at the WACA in Perth on Tuesday night.
This was a night when just about everyone was true to character. Man-of-the-match Steve Smith was innovative, thrilling and reliable, a trio of traits which perhaps only he and South Africa's AB de Villiers regularly pull off with bat in hand.
Smith was ultimately out for 149 but the job was done by then, as Australia eased past India's target of 309 with four balls to spare.
George Bailey batted as he's done in the Big Bash for the last month and for Australia in this format often in the past -- which is to say solidly and brutally in equal measure. Bailey seems like the nicest bloke going round in Aussie cricket right now, and it was interesting to see the Indian players save their warmest embraces for him as the teams shook hands after the game.
Bailey and Smith's record-breaking 242 run stand was all the more impressive given they rescued Australia from a shaky 2-21. Both openers failed. Aaron Finch has looked hot and cold in the Big Bash this year, and was more cold than hot in Australia's World Cup-winning campaign last year. He is no longer an automatic selection for Australia in any limited overs format.
Dave Warner, meanwhile, continued to confound. His average of 35 is hardly terrible, but it's the lowest of any current established Australian batsman in the ODI format. But no one frustrated more than Glenn Maxwell, who could have bunted the ball round for 20 minutes or so but instead played a classic get-out shot and was caught on the boundary for 6. Because he's Glenn Maxwell.
Earlier, India looked like making a huge score but were well contained in the final overs. Josh Hazlewood was the pick of the Aussie bowlers with a super economical 1-41. He was the only bowler from either side who went for less than five runs an over.
309 was a decent score, but never quite looked enough -- and it wasn't. Statistically, it's still rare to chase more than 300 and win on any Australian ground but that's because statistics are essentially meaningless in this age of small boundaries, super flat pitches and super fat bats.
The real tale of this game is that India took two spinners in, whom Bailey and Smith picked off almost at will. Whether the spinners will be so innocuous on eastern states wickets is an issue to be discovered in coming days. The second match of the series is in Brisbane on Friday night.