Michael Sutton Twitter
Sydney temperatures soared over 40 degrees on Thursday morning but mid-afternoon the city and surrounding suburbs had been struck with thunderstorms, with emergency services dealing with fallen trees and knocked out powerlines.
Incredible photos emerged on social media, with the Sydney suburb of Kurnell dealing with thunder and lightning while Miranda was struck with heavy winds and rain.
Big storm starting to hit #Kurnell lots of thunder and lightning @dailytelegraph@theleadernewspic.twitter.com/NDughApZZs

— Michael Sutton (@sutto007) January 14, 2016
Storm coming through Miranda, Sutherland Shire #9News#sydney#sydneystormpic.twitter.com/gMoE1AIqOZ

— Alexander Kesselaar (@alexkess) January 14, 2016
A massive storm has hit Sydney #Sydneystormhttps://t.co/EOHXlptIhzpic.twitter.com/bGn8yKkGD3

— Business Insider AUS (@BIAUS) January 14, 2016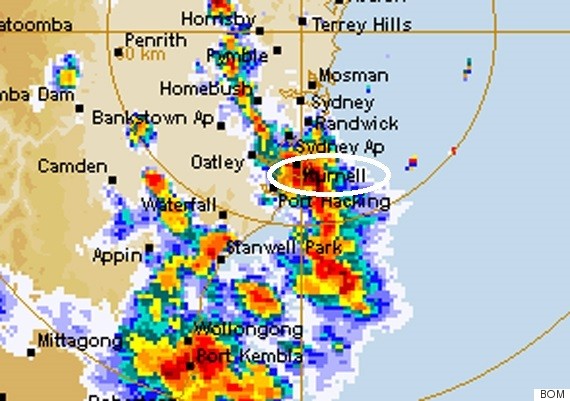 The Bureau of Meteorology radar showed that Kurnell, in Sydney's south, was the worst affected area. The coastal suburb was badly struck by storm damage in December, including a tornado that reached speeds of 213km/h.
Only hours earlier the city was basking in sunshine.