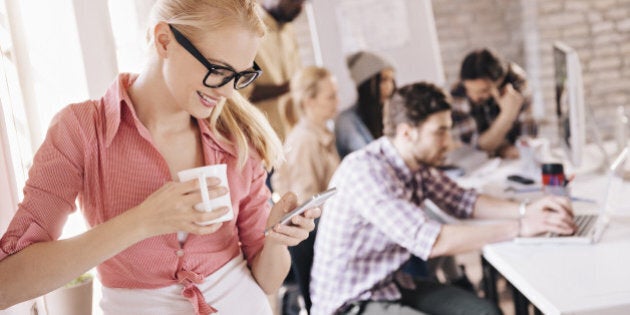 Australians have become so addicted to their smartphones that businesses are being forced to implement phone bans during work hours to improve safety and boost productivity.
And according to a workplace solicitor, employers are within their rights to discipline workers for breaching the ban.
With more than 89 percent of the population owning a smartphone, we've become addicted to the need to be constantly connected -- even at work -- forcing Perth business owner Graham Billington to prioritise safety and business productivity over his workers' desire to access their phones during work hours.
"I found there was too much distraction of the guys picking up their phones, answering text messages or checking Facebook," Graham told The Huffington Post Australia.
"Basically, by the time they started to focus back on the job, 20 minutes had passed and certain things started to get missed. It became a real distraction and I had concerns for safety and productivity."
Graham, who has headed up the business in Perth for 30 years this year, said he employed from 3 to 9 workers at any one time, and all had to adhere to the smartphone policy.
He estimated that before implementing the ban, smartphone distraction cost his business more than 20 percent in lost productivity.
"I started it about two years ago and initially those who were here when I introduced it said 'yeah, I understand it, but I don't think it's right'," he said.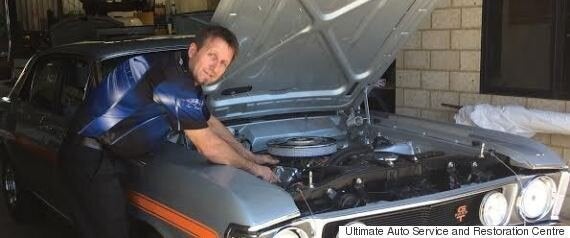 Graham Billington at work at his Perth business.
"Anybody new we employ now, it's part of the induction -- there's no surprises. We do give them a certain amount of trust, we ask them to leave their phones up in the amenities room, and most do do that.
"Some take advantage and leave them in their pocket or on the tool box -- I remind them to do the right thing, and most do after that reminder."
Graham said the consequences of not adhering to the policy was aimed at hitting the workers' hip pockets -- but also helped support kids with special needs.
"We do the Variety Bash and every time someone is caught with a mobile phone they have to pay $5 and it goes to the bash," he said.
"They then take ownership of the consequences of using their phones, and soon learn that after paying $5 4 to 5 times a day that it's not worth it. If they continually did it though and ignored our directive, we'd look at more serious consequences like dismissal -- it's not fair on the rest of the team when one person keeps doing the wrong thing."
Graham, who said implementing the no-phones policy had "absolutely" improved productivity at his workplace, relaxes the ban for a limited time and on a case-by-case basis for those who have genuine reasons for needing their phone, such as a sick family member.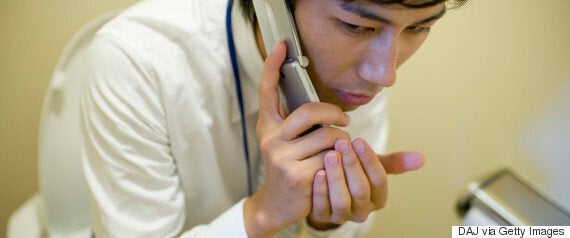 A warning sign of smartphone addiction could be when workers take consistent, lengthy toilet breaks.
Terri, who has coached and mentored numerous small business operators and entrepreneurs, said there were a few warning signs that a staff member may be addicted to their smartphone.
"One of the biggest warning signs of staff mobile phone addiction is consistent toilet breaks by staff," she said.
"Employees who use their phone excessively will often take it to the bathroom to hide the fact they're checking Facebook or calling home.
"Business owners worried staff will spit the dummy at a mobile phone policy, should simply show them the math and staff are likely to co-operate because they don't want to see the company go under or lose their job."
While it's less common in small business, the smartphone crackdown isn't a new phenomenon with a Melbourne tyre business leading the charge back in 2004, successfully banning mobile phones in their warehouse after months of negotiations with workers and a series of Industrial Relations Commission hearings.
The ban was prompted by the actions of an employee who had his phone in his hand while at the wheel of a forklift. Before the business closed in the late 00's, employees had to keep their phones in their lockers and only use them during meal breaks.
Numerous local councils have also implemented smartphone and social media policies in recent years to limit the personal use of phones during work hours by staff.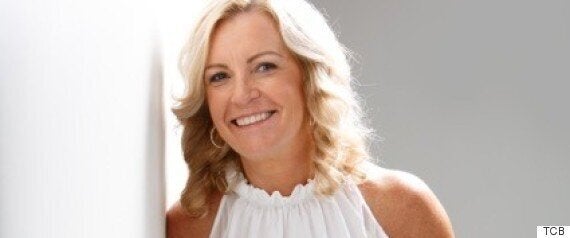 Coach and mentor Terri Billington believes small businesses should look at implementing a smartphone policy.
Shane Wescott, principal solicitor of employment law firm Patron Legal, said small business could legally implement a smartphone and social media policy, but should explain to workers their motivation for doing so.
"It is best to implement a policy at the start of an employee's engagement," he said.
"If you want to introduce a social media policy to cover existing employees, it is best to get an acknowledgement from your employees that they understand and agree to the terms of the policy.
"Employers should be aware, when implementing social media policies, that, while they have a right to control what their employees do at work, any onerous requirements (such as having to lock your phone up during the day) might be seen as unreasonable and unenforceable by a court.
"If an employee refuses to agree to a new social media policy and employer can't force them to sign up.
"However, if an employee is breaching the policy (for example, by posting on social media during work hours), it is reasonable and lawful for an employer to direct them to stop engaging in that behaviour. If they persist, an employer has the right to discipline an employee for not following directions."
Wescott said while it wasn't necessary to have a lawyer draft a smartphone policy, small business owners should seek advice before they go ahead and implement one.
"There are a number of great online resources, such as Lawpath, that provide pro forma documents for a reasonable price and for much less than you'd pay a lawyer," he said.
"Saying that, it's probably a good idea, if you are using pro forma documents, to have a lawyer look over the draft to make sure it's enforceable in your circumstances.
"Whether or not a policy is reasonable often comes down to what is legitimately and reasonably required to protect the businesses' particular interests."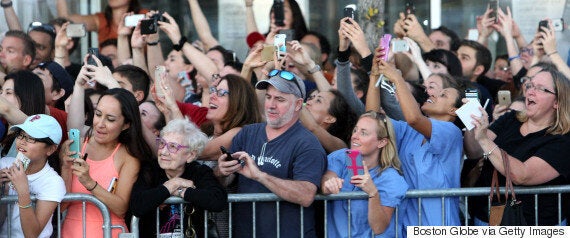 This photo, taken by John Blanding of The Boston Globe, went viral on Twitter as testament to just how addicted we've become to our smartphones.
Smartphone addiction can have serious health risks for workers aside from the obvious safety hazards of distraction by phone. So much so, that experts have coined a term for the fear of being without your smartphone -- it's called nomophobia (no-mobile-phobia).
Nomophobia support and rehab groups have popped up in the United States in recent years to help sufferers kick their addiction.
Online compulsive behaviour in adults and children is becoming such a problem that it will be a topic of discussion at the upcoming Australian and New Zealand Addiction Conference, hosted by the Australian and New Zealand Mental Health Association in May.