Cameron Spencer via Getty Images
The Australian Open kicks off in Melbourne on Monday, January 18, and while attendees are there to observe courtside, they will also be able to indulge in a range of health and lifestyle activities at the grounds.
A rising trend is the partnering of consumer lifestyle brands with sporting events to align with the holistic health and wellbeing ethos that is prevalent in our country right now.
Jurlique, the Australian natural beauty brand hailing form Adelaide, is a somewhat surprising official partner of the Australian Open 2016.
Beauty brands previously partnered with the event included global juggernauts Garnier and PZ Cussons, so it's refreshing to see a home grown beauty brand aligned with the iconic Australian sporting event.
Tennis goers can book in for a range of express treatments at the Spa Lounge.
"Guest to the Australian Open will have the chance to escape the crowds and visit our exclusive on-site Spa Lounge, where they can experience the purity of Jurlique and reconnect to nature," Anna Mayakova, Jurlique marketing director told The Huffington Post Australia.
"Jurlique is immensely proud to be an official partner of the Australian Open -- the country's largest annual sporting event. The partnership presents an amazing opportunity for us to showcase homegrown beauty to Australian and international visitors. The purpose of Jurlique is to inspire people to wellbeing through a connection with nature. The Australian Open provides us with a celebrated occasion to help people recognise and experience for themselves the power and efficacy of Australia's native plants and botanicals."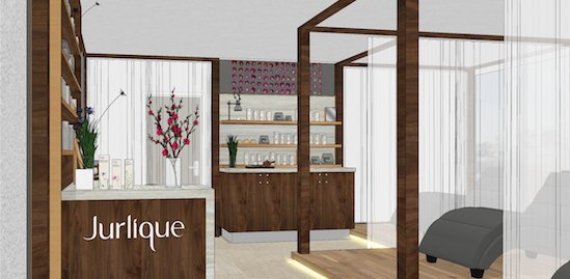 A rendering of the Jurlique Spa Lounge activation.
Vitamin and supplement brand Blackmores has also created a 'wellness oasis' on site at the Grand Slam Oval. The public can complete an online Blackmores Wellbeing Check, have a neck and shoulder massage and taste the range of beverages made from the company's new Superfoods range.
"We are thrilled to be partnering with what is undoubtedly one of the premier summer sporting events in this country. We want visitors to go on a journey at the Blackmores Wellbeing Oasis, we want to empower them to feel their best, become more aware of their personal health and inspire them to 'Be A Well Being' throughout 2016," said Paul Di Vito, chief marketing officer of Blackmores.
"Order ahead' app Hey You has created a function that allows attendees to order food and snacks from their seat, which can be preordered, prepaid on the app and delivered straight to their seat, though this service is only available in the VIP seating section.
"We know how exciting it is to catch all of the action at the Australian Open and how devastating it can be to miss crucial moments due to badly timed refreshment breaks," Rebekah Campbell, CEO and Co-founder of Hey You said.
"That's why we have teamed up with the Rod Laver Arena to make sure that customers can catch all of the action this year and receive a truly personalised VIP service."