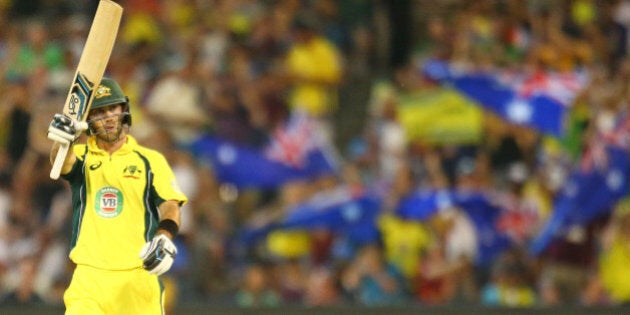 There are two Glenn Maxwells. There's wasteful, showy Glenn Maxwell and there's awesome, untouchable Glenn Maxwell. The latter Glenn Maxwell showed up on Sunday evening in Melbourne right when Australia needed him, as the hosts took an unassailable 3-0 lead in the five match One Day International series against India.
The matches in this series have been pretty samey so far. In each match India has batted first and knocked up a respectable score in the neighbourhood of 300, which Australia has then knocked off with an over or so to spare.
That was the case again tonight. As on Friday, solid knocks from Steve Smith (41) and Shaun Marsh (62) helped set Australia on track, but this particular chase looked wobblier on several occasions, especially when Matthew Wade fell in the 39th over leaving Australia 6 for 215.
That's when Maxwell lifted. He really played at his absolute best tonight -- brutal yet not chancy as he took Australia to the brink of India's 296 in the space of 10 overs in partnership with James Faulkner.
He holed out looking for a boundary to reach 100 with just one run left in the chase, but you could forgive wasteful, showy Glenn Maxwell a brief cameo on a night when his better nature dominated.
"It was great to see him bat the way he did today," Australian captain Steve Smith said of man-of-the-match Maxwell. "He scores so fast playing normal cricket shots, he's got all the shots. He plays so beautifully when he hits the ball in the right areas. Hopefully, he'll keep doing that.
"I wanted to shake off the tag of being called 'The Big Show'," Maxwell said afterwards. "I feel like I've been making big strides over the last few months. The way I'm hitting the ball and approaching the game is different to what I've been doing over the last few years."
Tonight might not have been a "Big Show" but it was definitely a good show. Again. And India has now gone a tour and a half to Australia without winning so much as second prize in a beauty contest.