Red Bull
Jordan Mercer is Australia's best ironwoman. And while there's no official measure, we reckon she might just be Australia's fittest woman too.
She's certainly one of our most fabulous women. Nicknamed "Magic", or Jordie to her mates (which obviously includes all of us), Mercer is from a family of surf royalty.
Her dad is Darren Mercer, who alongside brother Dean, dominated the sport of Ironman in the age when it was a mainstream summer TV staple.
Ironman/Ironwoman is back on TV this summer, starting this Sunday. This is your chance to watch Jordan Mercer win her first series. Oops, we let the result out of the bag. We're sure Channel Nine won't mind.
So then. Who is Jordan Mercer and how did she win? HuffPost Australia reveals all.
HuffPost Australia: Hi Jordan, we ask everyone this. Who would win a fight between a kangaroo and an emu?
Jordan: I've seen some kangaroos in Western Australia with biceps bigger than the world's best boxers. I feel kangaroos are born to fight. I've even seen footage of kangaroos fighting one another. They've got arms that are ready for the jab. Emus are tall and fast and have feathers but I think the kangaroo would win.
HuffPost Australia: You just won the Nutri-Grain Series which makes you Australia's best ironwoman. You officially rock. Congratulations.
Jordan: I'm so happy, I just have so much happiness to have achieved it, especially the final round at North Cronulla where I had so much support. A lot of my family was there and there were also people I hadn't seen in a long time, even a lot of girls I went to school with, so it was awesome to share it with them.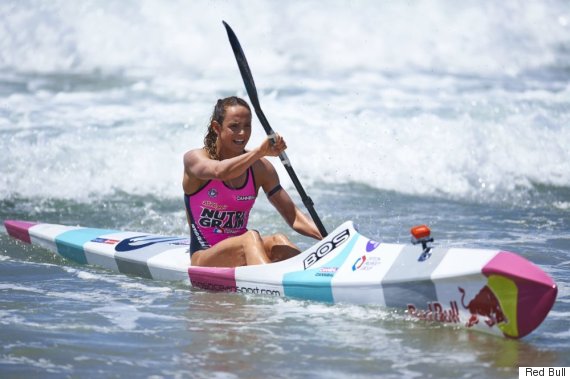 HuffPost Australia: As George Costanza once said in Seinfeld, "the sea was angry that day my friend".
Jordan: I really love messy surf. I get more excited when looking at horrible messy conditions than when the sea is flat. That's when I have the most fun. It does bring a big factor of uncertainty and a lot of luck is involved, but testing and tricky conditions is what our sport is all about.
HuffPost Australia: Did you splash out a bit afterwards?
Jordan: I had an ice cream. After winning I was out to enjoy myself and to eat anything I felt like eating.
HuffPost Australia: You once said your favourite food is "see food". You see food and you just eat it! We thought that was a pretty good line, but surely you follow a pretty strict diet.
Jordan: I'm lucky I have a great appreciation for good food that was instilled in me right from the very beginning. My mum is from an Italian family and she was brought up on wholesome fresh food that often came from their own backyard. I've always been very spoilt with good nourishing meals. Food is my fuel. I'm training sometimes six plus hours a day, so I want to put into my body what is going to get the very best out of it. Having said that, there are a whole lot of beautiful ice cream parlours in Hastings St Noosa near where I live, and I don't mind salt and vinegar chips. Whenever I have a race victory, my boyfriend Tim is always telling me 'you're getting the chips tonight'.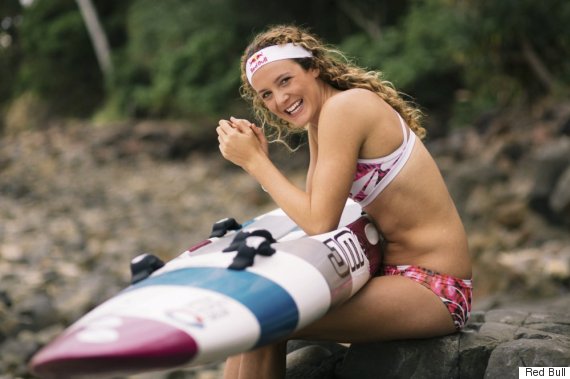 Um, the water's that way, Jordie
HuffPost Australia: Is your boyfriend superfit like your?
Jordan: He's a Noosa electrician and yeah, he's pretty fit. He really enjoys his rugby union but he lacks my competitive drive.
HuffPost Australia: Athletes often end up with other athletes these days. It's kind of refreshing to hear of a sporting superstar going out with a tradie.
Jordan: Yeah, you see some people together and they're ridiculously similar, but I believe he's taught me so much. I tend to over-analyse things but he's as cool as can be. And I know I've helped him in certain ways too.
HuffPost Australia: Jordan, we read a really interesting quote from you once. It went like this: "I've been around surf clubs as long as I can remember. A lot of people say I'm very much like my dad, and I take that as a compliment, but now I've got to live up to the name." Here's our question. You seem like a pretty self-contained person. Why did you feel you HAVE TO live up the name?
Jordan: I certainly have never felt pushed or forced into doing this sport, especially not to have to follow in my dad's footsteps. Never once has he pushed me. He has always been very relaxed and I feel like I've always been self motivated and the drive has come from me. Dad has never been pushy and I think that's a huge credit to him. It wouldn't be easy for a father and a coach and this journey he is on with me. The one that always has the answers for me is my mum.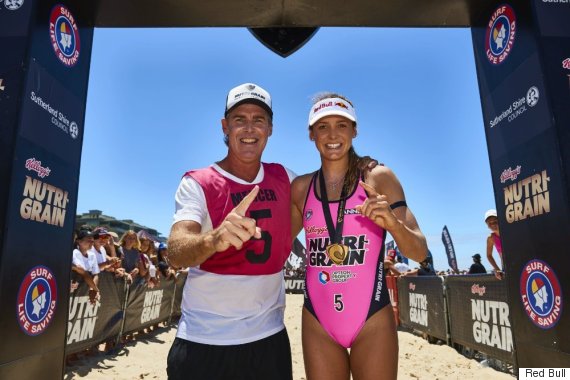 Jordan and dad Darren celebrate after winning this year's Nutri-Grain series
HuffPost Australia: OK, so we're sorry to labour this, but there's another quote from earlier in your career where you said "I've finally put together a race that is Mercer-worthy, and to know that my Dad is proud of me means more than a gold medal. That was my motivation. Fear of failure."
Jordan: I just want to make my family proud. That's what I strive for. Being older now and in hindsight, I understand that if I do my very best, I should be content. Winning is not the only thing.
HuffPost Australia: It's not, but you've sure done a lot of it. You've won the Nutri-Grain series now. You've also won a torturous 55km Hawaiian paddleboard race called the Molokai to Oahu five times. What are your big picture career goals?
Jordan: The ironwoman series, the Coolangatta Gold and and the Australian ironwman title are the big three I really want to tick off. On a wider scale when I'm ready to say goodbye to competitive sport I want to work more with young athletes. I'm already working closely with young competitors at Noosa Heads, and down the track I'd love to be a TV host of children's shows or adventure shows. That's a transition I would love to make.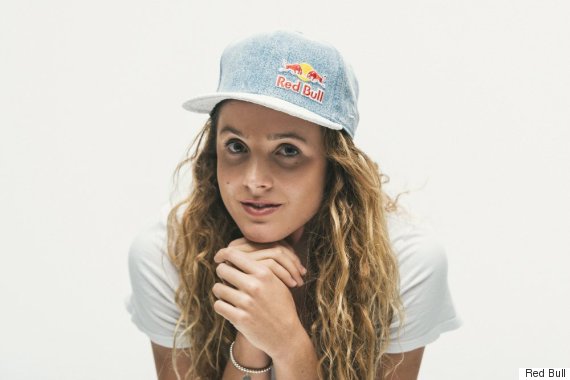 She's Jordie to her mates, which is all of us.
HuffPost Australia: When's the last time you just went to the beach to chill out like the rest of us?
Jordan: I don't do it enough. Even some of the kids I work with every now and then say 'I can't remember the last time I came here just to enjoy the sand and play in the surf'. I really don't have a great deal of spare time but if I do have an opportunity, the beach is defintitely where I want to go. And in those those moments I'mreminded how much I love this place, like wow, the ocean is incredible. How lucky am I to have this as my office?
Huffpost Australia: Very lucky Jordan, take our word for it. Thanks for chatting to us.
Jordan: Thanks.
*Note: while we did this interview, a little girl called Mikaela knocked at Jordan's door and gave her a card covered in sparkles that said "Go Jordie". We thought you'd like to know.
Oh, and if you want some more info about the Nutri-Grain series and when it's on TV, click here.