Roberto Westbrook via Getty Images
Any which way you look at it, furnishing a new home or apartment is expensive.
Arguably the most painful when it comes to costs is dishing out wads of cash for boring-but-necessary items such as white goods (I mean really, how excited can one get over a washing machine?).
Once you've forked out for the fridge, mattress and myriad of other essentials, it's likely you'll have little left in the kitty to splash out on that Eames lounge you've always dreamt of. And while IKEA is a godsend when it comes to affordable, stylish homewares (and there are countless hacks out there to make it your own), sometimes even their extensive range leaves you wanting.
Take the humble couch for example. If Scandinavian minimalist (found in most mass retailers) isn't your style, you could be looking at upwards of five or six grand for a sofa.
Ivan Lim, CEO of Brosa, identified that consumers too often feel that furniture buying can be expensive and time consuming and that affordable pieces were unoriginal. From a family of interior designers, Lim was the odd one out as a tech entrepreneur, and decided to use his knowledge to launch a premium furniture brand that is sold purely online.
By cutting out the middleman, Brosa is able to offer 12 categories and over 1,000 products without the pricey cost of a showroom.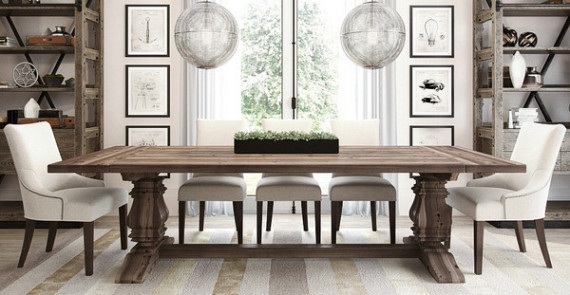 Brosa's 'Zoe' dining chairs.
"We understand that customers might have some reservations with regards to purchasing furniture without having touched or felt the fabrics and for that reason we post out samples so that people can touch textures and get an idea of colours in real life," Lim told The Huffington Post Australia.
Wall art can be one of the hardest items to find, particularly if you're on a budget, as big works usually equal big bucks.
All Posters, the world's largest poster store, stocking literally hundreds of thousands of fine art prints, photographs and posters in an array of sizes. Orders can be placed framed, though shipping is pricey. Instead, order just the prints and frame with eclectic vintage frames or cheap and cheerful ones from discount shops such as Hot Dollar.
Sealoe.se is Swedish company that primarily retails prints to specifically fit IKEA's frame sizes.
"I lived in Sydney when I got this idea and I got encouraged to pursue it. I moved back home to Sweden and within a few weeks the design process started on my parents' couch," founder and CEO Madelen said.
This comes in particularly handy when looking to hang a large print, as IKEA's range is made from lightweight plywood and perspex (as opposed to weighty glass), making them ideal for renters who are at the mercy of 3M hooks.
The brand also retails cushions, candles and other soft furnishings.
Speaking of soft furnishings, it's those final touches that make a house feel cosy and personalised. And while interior trends do come and go, they don't move as fast as fashion trends -- meaning that you can pick up great pieces on sale that won't scream 'out of date'.
Temple and Webster is a great online service that acts like an aggregator for homeware sales. Household brands host sales on the site so you can pick up anything from premium bedding, kitchen utensils, lighting and furniture at discounted prices. Sign up for the newsletter to receive alerts regarding new sales. Once they're gone, that's it.
Use this handy infographic to break down exactly what you need to do this weekend to have a sparkling new home come Sunday night.
Infographic from Wimdu