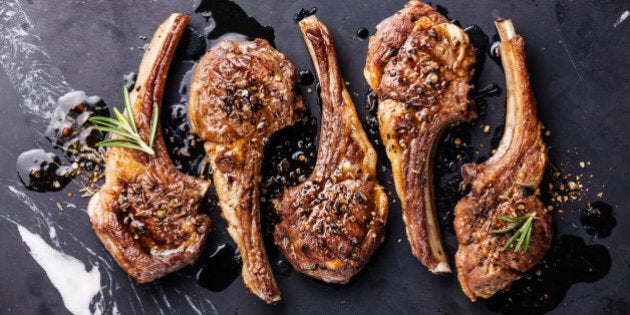 Any meat loving Aussie will tell you, there's having a barbecue, and then there's having a barbecue.
Sure, you could whack on a bunch of snags and whip out a loaf of Tip Top, but for those wanting to up the ante a little this Australia Day, we've got your back.
Enlisting the help of Chef Faheem Noor from Sydney's Pelicano, he's selected your meat, dessert, and even nibbles beforehand. Head to the supermarket this weekend to stock up on ingredients and get ready for the best barbecue you've ever hosted (just add beers).
1kg Lamb loin
1 bunch of lemon thyme
4 garlic cloves (Crushed)
1 lemon
Salt and pepper
Olive oil
2 Raddichio
2 tbsp Balsamic Vinegar
1 tbsp Honey
Sliced Radicchio in halves. Rub with balsamic and honey, then leave to marinate for an hour. Best to save some of the marinade for basting, and do so every 10 minutes as it cooks. That way it will add moisture, trap the smoke flavour and caramelise gently as it goes.
Preheat barbecue to medium heat. Use a charcoal barbecue if possible to get that smoky charcoal flavour. Wait for the right moment to cook -- you need to wait for the flames to die down, but make sure the coals are grey and glowing as that's the hottest and most even heat.
Season lamb with salt, pepper, lemon thyme and garlic. Cook for three to four minutes on griddle bars. Remove and rest -- always rest lamb after cooking as you'll get a more moist tender result. Transfer the lamb from barbecue to a plate and loosely cover with foil, and rest it in warm place.
Serve with charred Raddichio and lemon cheeks.
1 1/4 cup sugar
1 1/4 water
4 mangoes (flesh remove from cheeks)
1 tbs lemon juice
300 ml thickened cream
Combine sugar and water in a saucepan. Stir over low heat until the sugar is dissolved. Bring to the boil and boil for about 5 minutes, or until syrup is thick. Cool to room temperature.
Blitz mangoes,syrup and lemon juice until smooth. Combine one cup of mango mixture with cream. Line a 20cm x 30xm baking pan with foil. Pour mango cream mixture and freeze until firm.
Pour remaining mango mixture over frozen mango cream in pan. Freeze for several hours or until firm.
Cut into slices when frozen and store in freezer.
Avocado and wasabi dips with spicy spuds and tortilla
4 small ripe avocado
200g natural yoghurt
2 tbsp wasabi
zest and juice of lime
1kg kipfler potatoes or baby potatoes
2 tbsp olive oil
1 tsp chilli powder
1 bag of tortilla chips, to serve
Blitz half the avocado flesh with the yoghurt, wasabi, lime and seasoning. Dice the remaining avocado, then gently stir into the blended mix with most of the lime zest. Cover, then chill until ready to serve.
Boil potatoes 10 mins, then drain well and toss with olive oil and chilli powder.
Char potatoes on hot barbecue plate till nice and golden. Arrange hot potatoes and tortilla chips for dipping.