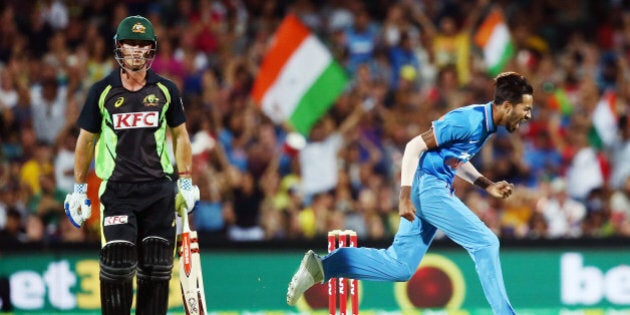 The World Twenty20 happens in March in India for both men and women. But if the performances of both the men's and women's Australian teams at the Adelaide Oval on Tuesday night count for much, we have a problem.
This statistic will surprise you. Australia's Twenty20 men's team has not played a single T20 international match in Australia since November 2014. Two huge seasons of Big Bash domestic T20 pyjama fun have happened since then, yet in that time we've never gotten together as a national team on home soil and tried to work out what our best unit is.
Not good. No wonder Australia has never won the World Twenty20, which for the record has taken place five times and been won by India, Pakistan, England (eek!), West Indies and Sri Lanka.
So here we are in January 2016 and Australia is trying to work out what its best teams are, which is kind of late for a tournament which begins in six weeks. What we know, after both the women's and men's teams lost on Tuesday night, is that we haven't quite nailed the lineups yet.
The Southern Stars set India a challenging 140 which they never really looked like reaching, until the last few overs when they did, thanks mainly to 26-year-old right-hander Harmanpreet Kaur, who scored a really inventive, enterprising 46 off 31.
It wasn't quite as brutal as Alyssa Healy's spectacular 41 off 15 at the end of the Australian innings -- which included 19 runs off one over while she commentated while mic'd up -- but it did enough to ensure India's largest ever successful T20 run chase.
Possibly that was just a hiccup for the women, who have an excellent international record in Twenty20 cricket. But for the men, it was more of a burp tonight. They were not good. The only bowler who looked remotely like containing India was Shane Watson. Shaun Tait and Kane Richardson were both unimpressive and spinner Cameron Boyce was a little meh.
Who is our best bowling lineup? Who knows?
But the theory was always, hey, that hardly matters because we bat so deep. Well it's one thing batting deep and another thing batting entirely well. Australia did not do the latter. There were little flashes here and there of brilliance, led by Aaron Finch's 44 off 33.
But mostly, the whole Australian innings was a tease. Chris Lynn hit a trademark ridiculously big six, then got out for not much. James Faulkner, Shane Watson and Dave Warner all hit a good shot or two, then also got out for not much.
And that was that. Like the fireworks partially obscured by the stands behind Adelaide Oval, the Australian batting performance was a show you felt like you never quite saw the best of.
The Australian cricketers have plenty of work to do ahead of the World T20 -- and for the next two matches of this series if we're to get close to India, who were led by a masterful 90 off 55 balls from Virat Kohli.
There's work to do for the team milliner as well; Steve Smith wore no cap tonight because no one had made a T20 one for him.
But the people with the most work to do are the selectors. After Australia's 38 run loss tonight, you'd have to think Usman Khawaja comes into the frame. But that might make too much sense.