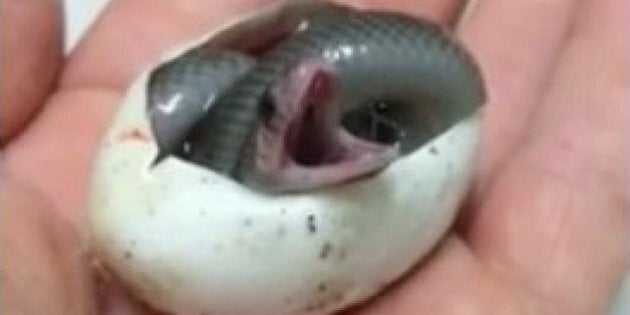 All babies are cute, right?
The Australian Reptile Park thinks so, airing this video of the adorable and not in any way scary vision of a baby snake taking its first breath.
Dubbed Kevin by the supervisor of the park's venom program, Billy Collett, the little nipper part of a clutch of 26 recently born at the park.
"Such a special moment caught by our head of Reptiles & Venom Billy Collett," the park posted on Facebook late last week under the video which shows the little King Brown snake tasting, then gulping, its first breath.
"One of our brand new, freshly hatched king brown snakes taking its very first breath!"
Collect told the Huffington Post Australia the snake and his slithery brethren will be milked in order to make anti-venom.
Kevin can be expected to undergo a growth spurt, with some male King Brown snakes reaching up to three metres, with an average of 2.5 metres.
Collect said Kevin could reach 2 metres in length in two years.
"They're all beautiful and all had their first feed and shed their first skin," said Collett of the highly venomous snakes.
According to the reptile park, a typical female king browns lays about 8-20 eggs and provides no maternal care for the eggs once they have been laid.
Incubation lasts for about 2-3 months after which time the baby snakes go in search of their first lizard meal.