Kevin Kane via Getty Images
"I get off track, then on track and off again -- I do my best. So many people want perfection, it's like 'nah mate, we're all human, are you for real!'"
That pretty much sums up Bridget Malcolm's -- AKA the Aussie model who just stormed the Victoria's Secret runway -- attitude to meditation, and life in general. The Fremantle-native who has just added another accolade to her growing resume -- fronting the Sports campaign for Bonds -- is as refreshing as she is genuine. But the best part? She's able to poke fun at herself despite having just finished the cyclonic press and social media storm that's become synonymous with the annual Victoria's Secret show.
The 23-year-old who counts New York as her second home spoke exclusively with HuffPost Australia about her go-to dessert recipe, overcoming insomnia and her realistic approach to meditation.
4am call times, multiple time zones and long working hours. How important is getting your eight hours' sleep each night for an international supermodel?
"It's incredibly important. I was a chronic insomniac for years. My mum said as a baby I just wouldn't sleep and I've had that mentality all through my life -- it's been really hard. There's been many times where I've turned up on set for a job with zero hours sleep. It gets ridiculous. But I've completely changed in the last year. My fiance introduced me to this device called Somnius and it works by syncing your circadian rhythms with your sleep cycle. It completely changed the way I sleep and now I'm a master at sleeping -- I can pass out anywhere. It's a combination of that and also meditation and mindfulness."
Bridget Malcolm fronts the launch of the new Bonds Sports range.
Your Instagram is quite fabulous. Tell us about the vegan ice-cream recipe you posted last year…
"I was so excited when I discovered this. First, freeze almond or coconut milk by putting it into your ice cube tray. Once frozen, pop in your Vita-Mix or a high speed blender and add a bit of liquid. Add cacao powder, your own sweetener -- honey or I use stevia and a bit of vanilla essence. Then you literally have the most delicious thing on the planet."
You made headlines last year after responding to negative comments that claimed you had an eating disorder after you posted a selfie to social media. How do you deal with this cruel side of the job?
"Everyone's going to have their opinion. I think it's ridiculous that people think they have the right to judge how other people look. These people that say things like I have an eating disorder, well I'd like to go around in the ring with them and see how they cope. I know I don't have an eating disorder, I'm fit and healthy so it doesn't really bother me -- it's just a testament to where our society is at right now."
What's your meditation approach?
"I started with the HeadSpace app but I quickly found that I was only able to meditate when I was using that with headphones on -- and that kind of defeats the point of it. So now, when I'm in New York I like to do a type of yoga called kundalini yoga which is based on meditative movements and kriyas. It's less physical than vinyasa."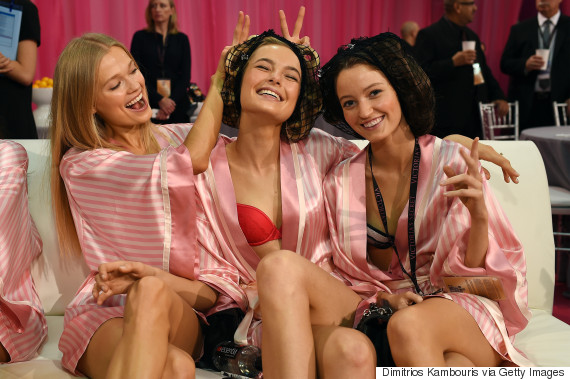 Bridget (middle) with model pals Vita Sidorkina and Megan Puleri backstage before the 2015 Victoria's Secret Fashion Show.
The new Bonds Sport range will be available from 25th January in Bonds stores, bonds.com.au, Myer, and selected department stores nationally.