Kevin Mazur via Getty Images
As far as beauty trends go, bold brows aren't new.
We've seen a strong brow featured on runways, in advertising campaigns and on the faces of the most famous models for years now, and as with all trends it quickly trickled down to the masses.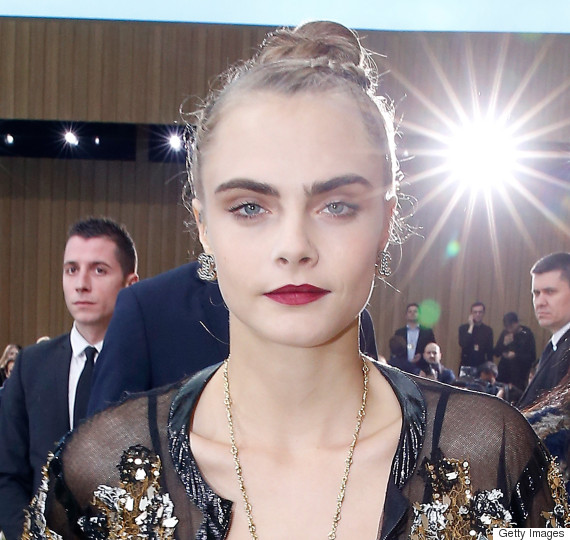 Cara Delevingne's eyebrows are arguably more famous than her.
With it came a slew of new brow products in a previously neglected category. We're not just talking your humble brow pencil, but waxes, powders, mascaras, stencils and whole kits. In addition, women the world over started the painfully slow process of growing out their previously over-plucked brows.
Though if you are growing out your brows in the quest for a fuller set, there are some things you should know.
"Taking the time to grow out your brows is the best way to start when desiring a new or fuller shape," Kristin Fisher, brow technician and owner of Kristin Fisher Eyebrows told The Huffington Post Australia.
"Though women need to understand that hair won't grow where it never existed, and areas that were over-plucked for some time may grow back sparsely, or not at all."
Hair grows in three stages, known as Anagen, Catagen and Telogen.
Each hair is at a different spot in each stage, which is why all hairs don't grow back at the same time -- some may be in Telogen (known as the resting stage) while others are visible above the skin. These stages take 6-8 weeks, so to take into account that some hairs might be on the first stage, allow three to six months in total to grow your brows out. Any longer than that and you're wasting time.
"Once a client has been growing out their brows for six months we then know what we are working with. Sadly, waiting any longer won't produce a big bushy brow if they never had it to begin with," Fisher said.
"From there it is recommend to have a professional shape your brows. They are experts in symmetry and can make your brows look neater and fuller using a combination of waxing, plucking, tinting, and finally, teaching you how to fill them in."
Once a pro has completed their handiwork you can maintain the shape by plucking any strays as they grow through.
"It's fine to pluck obvious strays in between appointments, however don't take hairs from the body of the brow. This can change the entire shape and I am too often trying to correct mistakes people have made at home while trying to even out their own overplucking. In these cases, feather tattooing is a viable solution to fill out the brows again," Fisher said.
When it comes to filling in your brows at home, Fisher offers the following tips:
If you're new to filling in your brows, start with a pencil as opposed to wax, as pencils are easier to use.
Regardless of if you use a pencil, wax or powder, always apply your brow product in very light, feathery strokes and build up colour slowly. Never draw them on in a block shape as it looks obvious and fake.
If using an angled brush and brow wax or powder to fill in your brows, don't start at the base of the brow as that will create a heavy and obvious result. Instead, load the brush and start at the mid brow, working outwards. As you have less product on your brush now you can work on the base of the brow.
Choose a brow product in the exact same shade as your brow hairs whenever possible.
If you're blessed with a full brow that doesn't need filling in, comb on a clear brow mascara to keep stands in place.