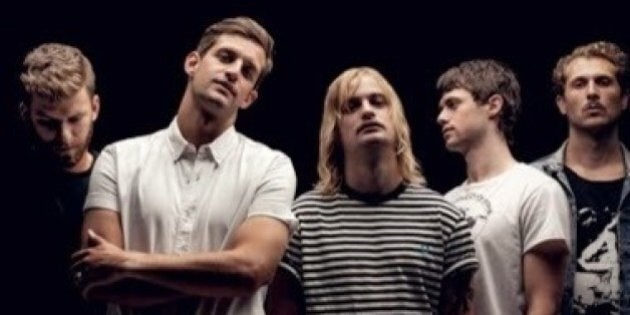 New South Wales rock band The Rubens have taken out the top spot on Triple J's Hottest 100 with their song Hoops. The band is the third homegrown act in a row to win the prestigious title, after Chet Faker and Vance Joy.
The Rubens' official site was down within minutes of the announcement.
The five-piece alternative rock band, who were originally from Menangle on the outskirts of Sydney, had previously reached No. 10 in 2012 with My Gun.
Speaking on air afterwards, they said they were "blown away" with the surprise result. They took to Twitter to express their excitement:
Many music lovers believed Kendrick Lamar's King Kunta would take out the top spot. The US rapper came in a close second, followed by Major Lazer's ARIA No. 1 Lean On.
Supporters of homegrown music will welcome the news, which follows some controversy over the number of mainstream international names sneaking in to what, for the past decade, has been the home of alternative Australian music.
Fifty-four of the Hottest 100 are local names. However, many of the top spots were held by overseas music sensations. Besides Kendrick Lamar and Major Lazar at No.2 and No.3, there was The Weeknd's Can't Feel My Face at No.9 and Canadian rapper Drake with Hotline Bling at No.14.
No women have made it into the top ten in Triple J's Hottest 100 this year except for Lorde, who is a feature artist on Magnets by Disclosure which secured the No. 10 spot.
It is the first time since 2012 that no solo female artists have made the top spots, with Sia, Lorde and Lana Del Rey among the top ten in the last three years.
Australian singer-songwriter Meg Mac just missed out with her single Never Be produced by M-Phazes, coming in at No.11.
According to ABC News, more voters than ever cast their ballots this year.
"We received about 2,094,000 votes from 298,851 people," Triple J's content director Ollie Wards told the ABC.
"That's the most amount of people who have ever voted in the Hottest 100."
#2 - Kendrick Lamar – King Kunta
#3 - Major Lazer – Lean On
#4 - Tame Impala – The Less I Know The Better
#5 - Tame Impala – Let It Happen
#6 - Marcus Marr and Chet Faker – The Trouble With Us
#7 - Jarryd James – Do You Remember?
#8 - Hermitude – The Buzz
#9 - The Weeknd – Can't Feel My Face
#10 - Disclosure - Magnets
#12 - Rufus – You Were Right
#13 - Duke Dumont – Ocean Drive
#14 - Drake – Hotline Bling
#15 - Violent Soho – Like Soda
#16 - Vance Joy – Fire And Flood
#18 - Macklemore and Ryan Lewis - Downtown
#19 - The Weeknd – The Hills
#20 - Foals – Mountain At My Gates