anyaberkut via Getty Images
If small business owners could ask for one thing, it would be more time in the day. Running your own business means you need to wear 50 different hats and take on multiple responsibilities.
Thankfully, there are a zillion apps out there that can help entrepreneurs streamline their business operations. Here are a few.
Arguably one of the bigger game changers in cloud storage and file sharing, Dropbox estimates that it connects connects 400 million people -- including one in three Australians -- and 8 million businesses across the world.
Its Dropbox Business function allows small to medium businesses to store, sync, and securely share Office documents, videos, music files and images and allow users to access them via iOS, Android and Windows devices.
The app gives you the ability to securely preview, edit and share files direct from your smartphone. Files can even be accessed offline by adding them to your favourites, giving you the freedom to manage files on the run.
Specifically designed to only download files when access is needed, the Dropbox app ensures users don't have to worry about data consumption. Plus you can also sync camera roll images straight to Dropbox.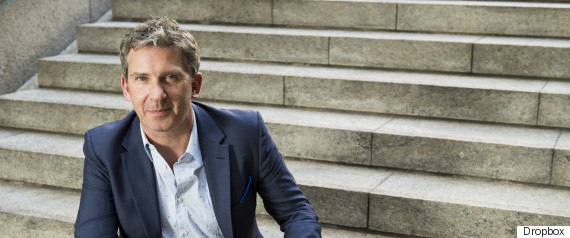 Dropbox Managing Director Charlie Wood says cloud storage is the way of the future.
"Dropbox Business also works with all the apps small businesses like to use such as Word and Excel, Photoshop and Adobe Acrobat to name a few, so teams can enjoy the additional benefits of increased collaboration and being able to work productively across devices, locations and on the go," said Charlie Wood, Managing Director of Dropbox ANZ.
"Thanks to the benefits of the cloud, small business owners can enjoy increased mobility with the ability to work at a time and place that suits them, be it in the office, on the job or on the go."
Price: Dropbox Business costs $17 per user, per month (or $14 per user, per month for annual commitments) for unlimited space. You can get a 60-day free trial if you sign up via Vodafone Ready Business apps.
Email marketing is a cheap, easy and effective way to keep in touch with your customers and keep get the word out without slogging away sending individual emails. Start your database and build it through MailChimp.
You can run email campaigns and automate emails to targeted sections of your audience based on behaviour, preferences, and previous sales and get in-depth reporting insights to make sure each campaign hits the mark.
Price: Free up to 2000 subscribers and 12,000 emails per month.
These two social media apps are very similar. They allow you to coordinate multiple social media accounts, forward schedule posts and provide complex analytic reports on your followers, interaction and engagement.
Both allow teams to work under the same login. This is especially helpful if your business involves monitoring clients' social media, but almost essential if your own business has a suite of its own social media channels to keep up to date.
The most common social media accounts to use through both are Facebook, Twitter, Instagram and LinkedIn.
Price: Hootsuite has Free, Pro and Enterprise levels. Pro is best suited for small business at around $20 per month and has a 30-day free trial. Sprout Social has Deluxe, Premium and Team levels for $85, $140 and $710 per month. It also offers a 30-day free trial.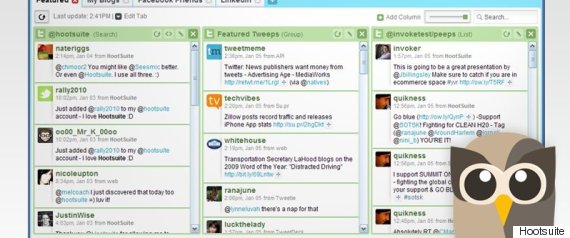 The Hootsuite app allows you to look at all your social channels at once and forward-schedule posts.
If your business needs to know more about what your staff or customers are thinking, SurveyMonkey can help.
Whether it's a poll on the run or in-depth market research, the SurveyMonkey app allows you to create, distribute and monitor surveys anywhere you go. You can even gain valuable insights in real time, with the ability to filter, compare and analyse data straight from your smartphone.
Fully compatible with the desktop platform, all activity conducted on the app also syncs directly to your online account, making the survey process even easier and more accessible.
Price: Free for iOS and Android.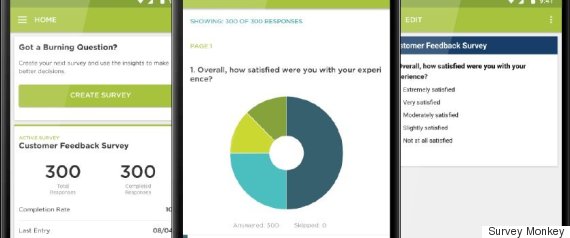 Want to know if customers like your stuff? Make a poll on the go with SurveyMonkey.
This app is great for people on the move or for those who prefer to spend less time at a keyboard.
It's a voice transcription app that enables you to type an email, text message or a reminder just by speaking. The speech-to-text recognition is reportedly five times faster than typing on a keyboard and has impressive accuracy and speed.
This is a time-saver app if ever we saw one.
Price: Free.
If your business requires a lot of travel, the HotelQuickly app can help out with last-minute hotel bookings for 11th-hour trips.
HotelQuickly offers great accommodation with only three-to-five-star hotels listed and is available in more than 250 destinations in Asia-Pacific.
The app claims to offer on average 28 percent cheaper rates than the best price online, so that's a bonus for your cashflow. The app is available in six different languages.
Price: Free for iOS and Android.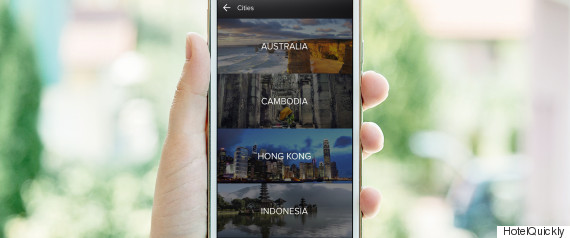 Get a cheaper rate with this app when travelling for your business.
Here's one for startups who want to smash out some ideas and have them organised in a methodical fashion rather than small pieces of paper all over the office.
This online tool allows you to organise your thoughts, help you brainstorm ideas and keep track of your projects and meetings by creating a virtual whiteboard with flowcharts. It's a different way to see the big picture of your business's plans, task assignments and projections.
Price: Free.
Here's a random one you may not have thought of. Don't have time to clean up after yourself and your employees? Helpling can help.
This app can make cleaning easy and affordable by allowing you to book trusted local cleaners in a few quick steps from your smartphone.
Simply enter your postcode, your individual cleaning needs and your preferred time, and you're done. You can even customise your job in case you have any special needs, such as cleaning out the communal fridge.
Price: Free on both iOS and Android.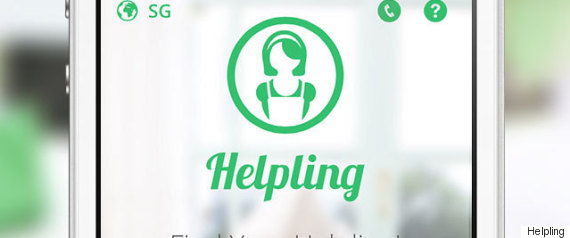 Sometimes business owners can afford to outsource stuff they just don;t have time for.
You're always much better organised when you have a set list of tasks to do for the day -- it's an easy way to not get distracted or overwhelmed.
This app can help to manage your daily-to-list. You can also sync the web version with your smartphone version -- either iPhone or Android.
Price: $25 per year.
Late last year Serko Ltd integrated with Australian company, GPU Chauffeurs, to give business travellers the ability book their airport transfers at the same time as booking flights and accommodation in Serko Online.
This door-to-door service cuts out the wait for taxis at busy airports when you need to get to a meeting.
Price: Free for iOS and Android.