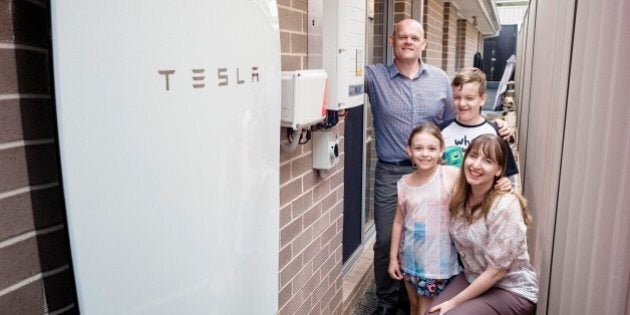 Households around Australia are making room on the wall for Tesla's latest major innovation after the very first 'Powerwall' shipment hit our shores this week.
The Tesla Powerwall Home Battery is a new storage device from the motor company that allows users to store power from solar panels and use it at night, rather than selling back excess energy.
The Pfitzner family of Sydney's Kellyville Ridge received the first Australian residential installation after waiting on Tesla's reservation list. Nick Pfitzer admitting he's "been watching Tesla since the Roadster was first released," and "was quite a fan of Elon Musk in general."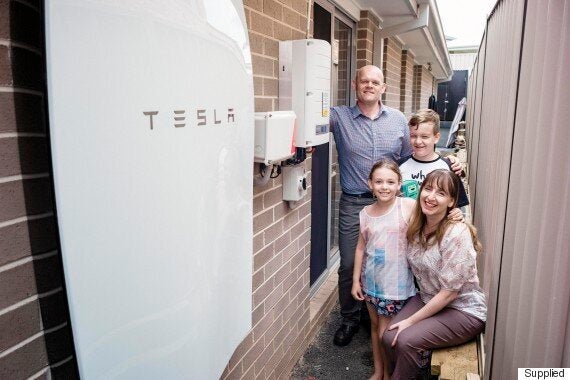 Despite the price tag starting at around $10,000, or $20,000 if you need panels, Natural Solar MD Chris Williams thinks "the Australian public is well and truly ready for this new frontier in renewable energy."
Installations are set to start at other locations around the country from next week, begging the question -- is the writing on the Powerwall for outdated Australian energy industries and practices as homes become less reliant on grid electricity?
UQ Professor of Economics and energy economics specialist John Foster thinks energy companies should be concerned, but not only because of developments in the battery world.
"I think that Tesla's implementation is going to be a bit slower than people think -- maybe 3 years -- because there's all these new sharing schemes developing to enable people who don't have solar to buy from people on the grid," Foster told HuffPost Australia.
"It's pure speculation in a way but when you see how fast Uber and Airbnb catch on, these networks could be the future."
"Energy sharing could be so economically viable that they'll catch on before batteries become popular because it's a specialty interest right now and needs a few years to catch on as they become better and cheaper."
Regardless, an obvious factor is turnaround for your investment, and Lifehacker's predictions of up to 25-30 years for a Powerwall to pay itself may be off-putting for a large portion of the market.
Announced back in April 2015, Tesla CEO and co-founder Elon Musk explained the Powerwall's significance as a neat solution to repackaging batteries in a compact, organised manner.
"The issue with existing batteries is that they suck. They're really horrible," he said.
"They're expensive. They're unreliable. They're sort of stinky, ugly, bad in every way, very expensive - you have to combine multiple systems - there's no integrated place you can go and buy a battery that just works."
Considering the 1.5 million Australians already utilising solar, the country's abundance of sun and the Turnbull Government's $1 billion plan to make Australia a new hub of innovation -- the Powerwall and competing energy tech could easily reshape our renewable energy industry in the next few years.
Musk, who has also made waves with his companies PayPal, Space X and Solar City, said Tesla 'will not initiate patent lawsuits against anyone who, in good faith, wants to use our technology.'.
Tesla's open-source approach fosters a future for entrepreneurs who wish to improve on or adapt the design or function of this product which is still only in its infancy.