WIN-Initiative via Getty Images
2016. What a time to be alive. Hillary Clinton just won the Iowa Democrat caucuses, meaning the U.S could be one step closer to its first female president.
Though for every victory women have in the professional world to begin to even out the equality stakes, there's a charming misogynist waiting in the wings to take us right back to 1950.
Enter, Justin James.
The American DJ currently touring the APAC region took to Facebook recently to advertise for female DJs to join his set on this leg of the tour, posting in the 'Support Female DJs' group. The prerequisites? You must be under the age of 32, lighter than 54kgs, attractive, and popular on social media.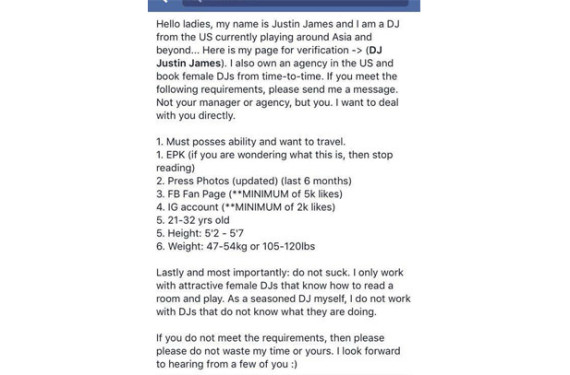 The post stated that James only wanted to liaise with applicants directly, not with their agents or management. Sounds very professional.
Though the post has now been deleted, angered members of the music community are taking to James' other posts to vent their frustrations.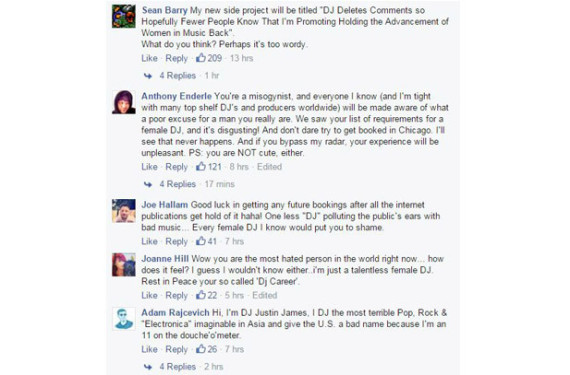 Another musician of the same namesake has had to use to social media platform to defend himself after being wrongly identified as James, copping abuse from angry men and women.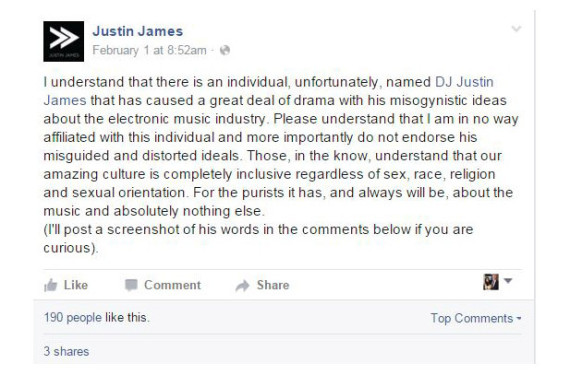 Most prospective employers are savvy to the fact that it's not okay to even ask someone's age or relationship status in a job interview, however it seems James missed the memo. Essentially, if you're easy on the eye, decent on the decks and people fawn over you on Instagram, according to James, you've got the job.
This comes after the debate over the lack of gender equality in this years Triple J Hottest 100.
Seems we've still got a long way to go.