Supplied
Feet in the white sand, looking out at the crystal clear water, Kristin Young didn't have a care in the world, let alone a worry she, at 47, would be diagnosed with stage three ovarian cancer. She was due for an operation upon her return home from three weeks holidaying in Samoa but the doctors said there was nothing to worry about.
That's the thing with ovarian cancer. It's hard to detect and when it is detected, it has spread so far it is hard to cure. Only 43 per cent of women diagnosed with ovarian cancer will still be alive five years later.
A new report released on Saturday reveals Australian women suffering from ovarian cancer want affordable access to treatments increasing their quality of life, as much as treatments saving it.
The report, conducted by the Centre for Community Driven Research (CCDR), reveals ovarian cancer patients want new treatments with more tolerable side effects -- called targeted treatments -- to not only be available in Australia, but affordable.
Many new treatment programs are not on the Pharmaceutical Benefits Scheme (PBS) and consequently hugely expensive, with the Australian health system often questioning the cost-effectiveness of treatments only improving the quality of lives.
Australian ovarian cancer patients currently cannot access new treatments as quickly as those in Germany, Canada or the UK.
Chief Executive of the CCDR and leader researcher Dr Catherine Holliday told The Huffington Post Australia treatment programs benefiting the quality of ovarian cancer patient's lives are currently fairly limited and hugely expensive.
"There's currently a lot of discussion about clinical efficacy and economic value, but there needs to be more to value the opinions," Holliday told HuffPost Australia.
"They need to be made a bigger part of the decision making process."
On Saturday -- as part of Ovarian Cancer Awareness Month -- the first of a series of Ovarian Cancer Community Forums will be held in Sydney, where researchers and clinicians will join women with ovarian cancer to discuss the challenges faced in both the disease and the health care system treating it.
"Given such a low survival-rate, it is critical that these women have the opportunity to improve their quality of life," Ovarian Cancer Australia CEO Jane Hill told HuffPost Australia.
Kristin is now 53 and one of the 43 per cent of Australian women to still be alive five years after diagnosis.
Six and a half years later, after five months of chemotherapy, remission, a relapse and chemotherapy again, Kristin is in remission.
She's currently taking part in a clinical trial to be taking the treatment she wants.
"The main quality of life benefit is it keeps chemotherapy at bay. More time without chemo -- that's what I get out of this," Kristin said.
And with a love of the pacific, Kristin's managed to travel to more remote countries than you can count on two hands. Her next trip in April is to Wallis and Futuna, a tiny French island in the South Pacific.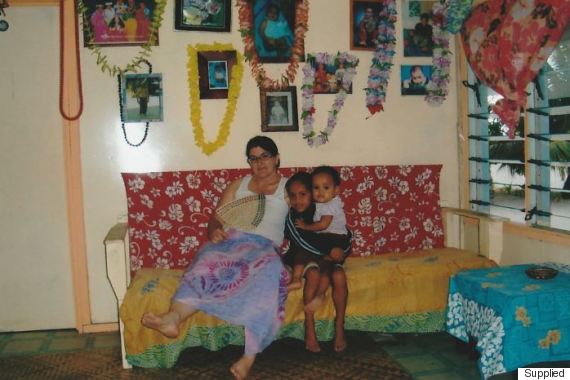 Kristin Young with locals in Samoa.
"Each trip you plan, you have to assume it's the last one," Kristin told HuffPost Australia.
"It's an odd feeling.. for first couple of years you feel a bit lost, but now I've learned that you plan for the immediate future and have hopes for the longer term.. but you don't get too locked into them."