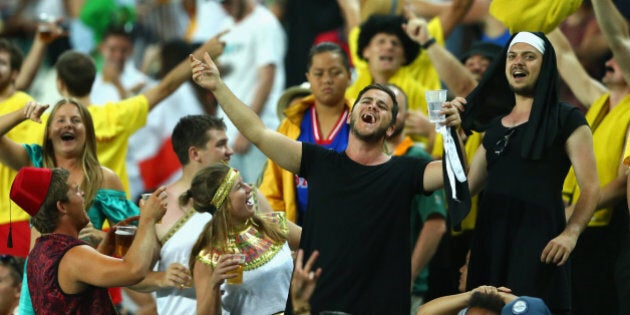 Police want Rugby Sevens fans to behave themselves on Sunday after more than 80 people were ejected from the event on its opening day.
Eighty-one people were booted from Sydney's Allianz Stadium on Saturday for bringing alcohol into the venue, being drunk, entering field of play, disobeying and resisting police, offensive behaviour, offensive language and assault, police said.
Authorities said a "high-visibility operation" would continue at the event today. They also said extra police would also be out in Sydney's CBD and Kings Cross.
The 2-day rugby extravaganza is sold out, with Australia into the semi finals after a hard-fought 17-12 win over old foe England.
Operation Commander, Superintendent Tony Crandell, said most in the crowd had been well-behaved.
"The crowd was in good spirits and well-entertained by the games, but sadly, there were a few people who drank too much and became anti-social," Crandell said.
"This is a family-friendly event and we will not tolerate anyone ruining the day for others.
"Everyone attending day 2 today is urged to be on their best behaviour. By all means have fun, but stay in control and respect other ticket-holders."
He said pitch invaders could expect a "12-month banning notice to all events within the Sydney Cricket Ground complex".
The event has delivered all the colour and fun associated with sevens rugby, and even included a suprise visit from former NRL star and NFL convert Jarryd Hayne.