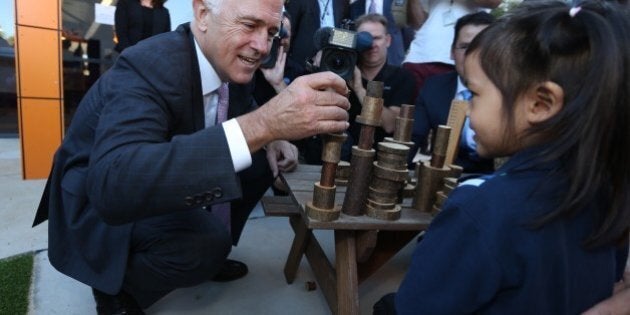 State premiers have joined calls to let asylum-seeker children and their families bound for Nauru to instead stay in Australia, in a move likely to increase pressure on the Turnbull government.
South Australian Premier Jay Weatherill is the latest to join the push for the asylum seeker children to be allowed stay in the country, after Victoria Premier Daniel Andrews sent a letter to Prime Minister Malcolm Turnbull on Saturday.
The backing comes as rallies are being planned in major cities on Monday night amid calls from Church groups and refugee advocates to let the children stay, after the High Court upheld the legality of the government's detention scheme.
Andrews said Victoria would accept full responsibility for providing health care, housing and welfare for the group.
The Premier's call was backed by his NSW counterpart, Mike Baird, , as well as Queensland Premier Anastasia Palaszczuk and ACT Chief Minister Andrew Barr.
Prime Minister Malcolm Turnbull told the ABC's Insiders program the government was providing incentives for people on Nauru to settle in other countries.
"We are dealing with these very delicate, anguished issues with compassion and we are dealing with them on a case by case basis," he said on Sunday.
"But what I am not going to do is give one skerick of encouragement to those criminals, those people smugglers, who are preying on vulnerable people and seeking to take their money, put them on the high seas in boats where they will like-as-not drown.
"There are no policy options available in terms of border protection which are not tough, which cannot be described as harsh."
Immigration Department chief Michael Pezzullo is reported to have told Senate estimates on Monday the returns could begin within days, as he reportedly denied one of the returnees was a 5-year-old child that had been raped.
The High Court last week upheld the legality of indefinitely detaining asylum seekers, effectively clearing the way for 267 asylum seekers, including 37 babies born in Australia, to be returned to Nauru.
The United Nations and Church groups have also backed calls to let the group stay, with two of Australia's largest Catholic healthcare organisations, Calvary and St Vincent's, offering medical support to Nauru-bound asylum seekers applying for church sanctuary.
Rallies organised under the hashtag #letthemstay are being planned in Sydney, Melbourne, Canberra and Brisbane on Monday night.
Last week a medical team from the Human rights Commission reported ninety-five per cent of asylum-seeker children who have lived at Nauru are at risk of developing post-traumatic stress disorder.
The government of Nauru has denied conditions for asylum seekers are harsh.