Fairfax
Embattled Human Services Minister Stuart Robert is set to face more questions about his conduct, as the opposition demands answers to accusations he misused his public office on a trip to China.
The Queensland MP and former assistant defence minister visited Beijing in 2014 and attended a signing ceremony between his friend and Liberal Party donor Paul Marks and Chinese owned company Minmetals.
Federal Labor has called on Prime Minister Malcolm Turnbull to sack Robert if it is proven he breached the ministerial code of conduct, while Shadow Attorney-General Mark Dreyfus has called on Robert to make a statement.
"The Stuart Robert scandal is going to become a test of Malcolm Turnbull's judgement," Shorten told the ABC.
"The writing is on the wall about Stuart Robert. Clearly, the media and Australia are dissatisfied by the information they have so far.
"Malcolm Turnbull has lost more ministers than he's released tax policies for Australia."
Turnbull shouldn't need his department secretary to decide whether Stuart Robert has breached ministerial standards. Show some leadership.

— Mark Dreyfus (@markdreyfusQCMP) February 8, 2016
The scandal comes just weeks after the the Prime Minister lost two government frontbenchers -- Jamie Briggs and Mal Brough.
Turnbull on Monday sought advice from the department of Prime Minister and Cabinet on whether Robert acted improperly.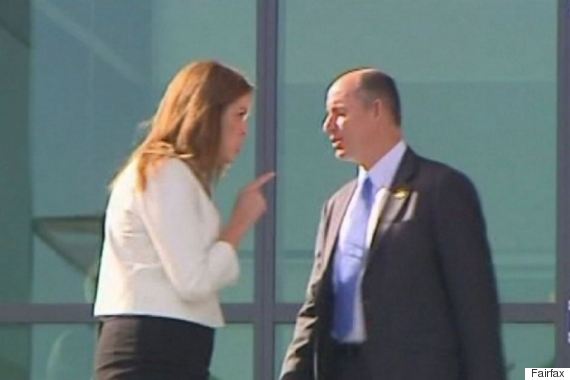 Stuart Robert and Tony Abbott's former chief of staff Peta Codlin pictured having a "blue" during the 2013 election
On Tuesday it was reported Robert also had a meeting with a senior Chinese government minister on the trip.
Defence Minister @MarisePayne on whether @stuartrobertmp breached the Ministerial code of conduct@abcnewspic.twitter.com/hzseOJRmTF

— Matthew Doran (@MattDoran91) February 8, 2016
Education minister Simon Birmingham said the prime minister expects high standards of all his ministers.
"He has demonstrated he will apply those standards in an impartial, fair and independent way," he said.
"In this case he has asked the secretary of the department of prime minister and cabinet to look into the issues and to make sure the ministerial code of conduct has been adhered to.
"It's a proper use of standards and I am confident we will get a fair outcome at the end of it."