A poorly handled node used to manage voice and data traffic has been blamed for causing Telstra outages that left some users unable to use the internet or their phones across the country.
Tuesday's outage -- which affected customers nationally -- occurred after one of the nodes used to manage voice and data traffic between devices and the network started to malfunction, and the individual responsible for managing it reconnected customers to the malfunctioning node instead of one of nine spares, a Telstra spokeswoman said.
"Unfortunately, this had a flow-on consequence and it led to massive congestion across the rest of the nodes," she told channel Nine.
"I can now happily say we have restored services to all of our customers.
"Absolutely apologise right across our customer base. This is an embarrassing human error. It is not OK."
The outage is understood to have affected prepaid mobile phone customers, as well as its 4G and 3G networks.
We're aware of an issue affecting mobile voice and data nationally. We're working to resolve the issue ASAP. Thanks for your patience.

— Telstra (@Telstra) February 9, 2016
@fox We have a large proportion of our customers contacting us wanting an update & we are providing the up to date info we have -Angela

— Telstra (@Telstra) February 9, 2016
@ShaffiSait Sorry, no ETA yet. We're working on a fix ASAP. We'll update when we can - Sam

— Telstra (@Telstra) February 9, 2016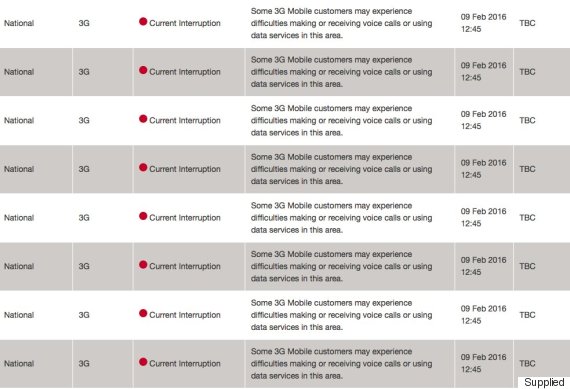 Telstra's outage site shows the interruptions affecting customers.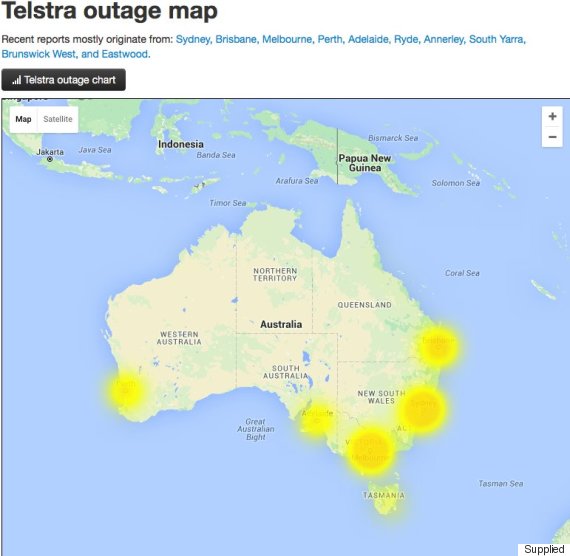 Source: aussieoutages.com
The spokeswoman said there will be an investigation and Telstra is working to figure out ways to provide free data to customers to make up for the inconvenience, the spokeswoman said.
Customers and observers took to social media on Tuesday to vent their frustrations.
Current status: @Telstra phone can't phone or Internet but phone can Internet when dongled to Telstra dongle.
Can we get some consistency?

— Dezzles (@Dezzles) February 9, 2016
Trying to talk to Telstra media reps about #TelstraDown. Guess what? Their phones don't work.

— Jen Dudley-Nicholson (@jendudley) February 9, 2016
Oops! @Telstra but your system IS BROKEN! And you charge far too much 4 your crappy, arrogant services! #telstradownpic.twitter.com/7Vo9pIsEfL

— Chris Dusseldorp (@ChrisCopywriter) February 9, 2016
Attempts to contact Telstra by phone during the day were unsuccessful.