Matt Sayles/AP
Tickets for Prince's much-anticipated Australian shows are being marked up by as much as 50 percent on online auction sites, despite tough measures aimed at curbing profiteering by touts.
Prince's upcoming Sydney concerts sold out in rapid time when they went on sale on Tuesday, with Ticketek Australia saying its 1500-ticket allocation for the artist's Opera House gigs sold out in under 10 minutes.
The flood of demand for the tickets comes after the US pop icon announced the 10-show Piano & A Microphone tour of Australia and New Zealand late last week.
The tour starts in Melbourne with 4 shows at the State Theatre then 2 shows at the Sydney Opera House on February 20 and then another 2 shows at Sydney State Theatre on February 21.
It then moves to New Zealand for gigs at Auckland's ASB Theatre on February 24.
TICKETS for #Prince's upcoming concerts at the Sydney Opera House sold out in under ten minutes https://t.co/U3bA8dEhyH

— Prince Watch UK (@PrinceWatchUK) February 9, 2016
PRINCE #PIANOandAmicrophone AUS tickets on sale tomorrow at 12noon AEDT. All details: https://t.co/VIODS5lTjS pic.twitter.com/LGljdFJf7G

— Dainty Group (@DaintyGroup) February 8, 2016
For the Sydney shows, ticket prices started at around $100 for the cheap seats and hit $400 for the premium.
Organisers have tried to stop price gouging on auction sites by requiring tickets to be collected on the night and only with ID, and the use of wristbands for ticket holders.
However on Wednesday a number of tickets were listed on auction sites ebay and Gumtree.
Many of the readvertised tickets were marked up, with one ticket to a Sydney State Theatre show, advertised on Gumtree, going for $610, up from a face value of $404.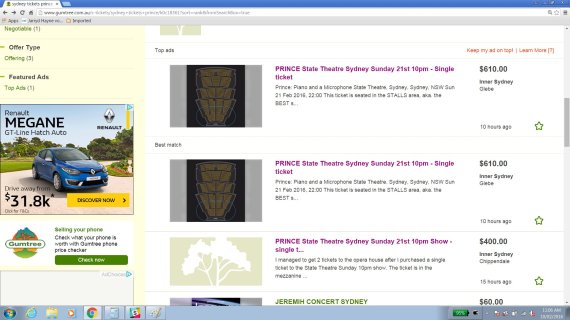 Tickets to Prince's Australian shows are being resold online
"This ticket is seated in the STALLS area, aka. the BEST seating sector," the ad from "PrinceFan" stated.
"I'll meet you at the show to collect and give you the ticket ... Potentially Prince's last show in Australia :) Get excited!"
The advertisement has since been removed.
The ticket release has already drawn fire for its pricing as well as some fans blaming sellers like Ticketek for "glitchy" systems preventing them from securing seats at the much anticipated concerts.
Only premium tickets for #prince #sydney left-only costs you $820 for 2 tix after transaction fee and credit card surcharge #NotThatKeen

— DAWN (@DT_urchin) February 9, 2016
Remember when Prince sang "you don't have to be rich to rule my world"? @BernardZuel raises sceptical eyebrow https://t.co/rtCa1mQ1Lh @smh

— Michaela Whitbourn (@MWhitbourn) February 9, 2016
Blanca Australian Prince fans fuming after a glitch causes them to miss Piano & Microphone tour tickets - Daily... https://t.co/MWs9hBAXaW

— Deep Blue City (@BlancaM06926481) February 9, 2016
Ticketek has said there was no problem with its website.
The upcoming concerts are promising a set list taken from the superstar's 39-album career, which includes 1999, Purple Rain, and Sign o' the Times, and each performance is set "to deliver special once-in-a-lifetime experiences", organiser Dainty Group says.
The gigs will also feature covers by artists like Joni Mitchell, Paul Robeson and Ray Charles as well as songs Prince has written for acts such The Time, Sheila E. and Vanity 6.