CANBERRA -- The latest Closing The Gap report on achieving indigenous equality has showed "mixed levels of success" in meeting targets, with child mortality and school achievement rates on track but employment and total life expectancy not on track.
Prime Minister Malcolm Turnbull will launch the report in parliament on Wednesday morning, announcing a mixed bag of results to his colleagues. While indicators on most points are on the rise, some areas are not improving at a fast enough rate to meet ambitious long-term targets.
"In the eight years since the Closing The Gap targets were set, there has been mixed progress towards meeting them. And today, again, we're seeing mixed results.," Turnbull told parliament on Wednesday.
In a foreword to the report, he also wrote "It is not until Aboriginal and Torres Strait Islander people have the same opportunities for health, education and employment that we can truly say we are a country of equal opportunity."
"The expectations must be the same for everyone -- from each newborn, to the child about to start school, the student dreaming of his or her future and parents trying to pay the bills and best nurture their families."
Targets around infant mortality have "improved by 33 percent and the gap narrowed (by 34 percent) between 1998 and 2014," a positive statistic, but offset by the finding that overall mortality and life expectancy rates for indigenous people are not improving fast enough to meet targets.
Official life expectancy rates are only available every five years through national census data, but the report found between 2005-07 and 2010-12, the gap between indigenous and non-indigenous people only shrunk by 0.8 years for males and 0.1 years for females. In 2013-published figures, the life gap between indigenous and non-indigenous people was around 10 years for both men and women. Overall mortality rates were currently significantly higher than the targets.
"...life expectancy of Indigenous Australians is still around 10 years less than non-Indigenous Australians -- an unacceptably wide gap," Turnbull wrote in the report's introduction.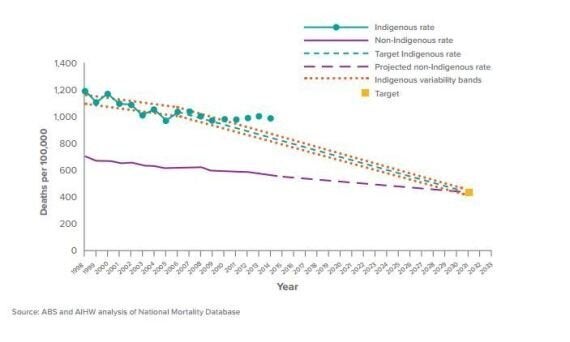 Indigenous Australians represent 3 percent of the Australian population, yet they represent 27 percent of the prison population, Turnbull said.
"When young Aboriginal and Torres Strait Islander men see jail as a rite of passage, we have failed to give them a place in our society in our community, and an alternative pathway where they can thrive," he told parliament.
"There is a vicious cycle of young Indigenous people being placed into prison, reoffending and then returning to prison."
Opposition leader Bill Shorten pointed out that Aboriginal men are 15 times more likely to be imprisoned than a non-Aboriginal men. Aboriginal women make up one-third of the female prison population following a 74 percent increase over the past 15 years, he said.
He called for justice targets.
"Far too many young people see jail time as a preordained destination, part of the natural order of things. It is not natural. These facts are more than uncomfortable. They are not the nation that we wish to see in the mirror," he said.
Alarmingly, cancer rates for indigenous people are on the rise as they decline in the non-indigenous population. Between
2006 and 2013, there was a 10 percent increase in cancer death rates for indigenous people but a six percent fall in the same rates for the non-indigenous population.
Mental health is a focus for this Closing The Gap report, with the government announcing a three-year, $85 million injection "to improve access to culturally sensitive, integrated mental health services". The indigenous suicide rate between 2008 and 2012 was "almost twice" that of the non-indigenous population.
In education, school attendance rates for indigenous students barely moved between 2014 and 2015, with rates still below benchmarks. The report admits "progress will need to accelerate from now on" to close education gaps.
The proportion of indigenous students meeting basic rates of literacy and numeracy is on track, with a target to "halve the gap for Indigenous children in reading, writing and numeracy achievements within a decade (by 2018)" within reach.
A target to halve the gap for Year 12 attainment by 2020 is also on track, while between 2004 and 2014, there was a 70 percent increase in indigenous students enrolling in higher education. Over the same period, total domestic undergraduate growth was 43 percent, meaning indigenous enrolment grew faster than the total rate.
However, despite advances in education and training, employment outcomes have not accordingly improved.
"The Indigenous employment rate fell from 53.8 percent in 2008 to 47.5 percent in 2012-13," the report said.
Turnbull re-affirmed a commitment to bring indigenous people into the process of closing the gap.
"If our greatest assets are our people, if our richest capital is our human capital then the opportunity to empower the imagination, enterprise, wisdom and full potential of our First Australians is surely an exciting one," Turnbull told parliament.
"We should not overlook or fail to celebrate the many successes of Aboriginal and Torres Strait Islander people.
"When the first Closing the Gap report was tabled in 2009, as the Leader of the Opposition, I delivered a statement to Parliament. I affirmed the Coalition's commitment to deliver a new future, with hope and opportunity for all, to indigenous Australians.
"Today, as Prime Minister, I stand by the intent of that commitment. However, I will honour that commitment not by delivering to Indigenous Australians, but by working with a diversity of Aboriginal and Torres Strait Islander leaders and communities across Australia."
Aboriginal and Torres Strait Islander Social Justice Commissioner Mick Gooda told the ABC the report showed the "we've stopped the gap widening."
"Now is the chance to close the gap and with things like birth weights of babies going up and infant mortality going down, they're great building blocks looking forward into the future," he said.
"It is about proper engagement, respectful engagement and when I look at the Indigenous advancement strategy that commence said about two years ago, an application process, an assessment process, they said they were going to look at what the priorities are for each region.
"I can't find any Aboriginal and Torres Strait Islander person that was spoken about what the priorities were so they just went ahead and made decisions without any involvement of the Aboriginal community."