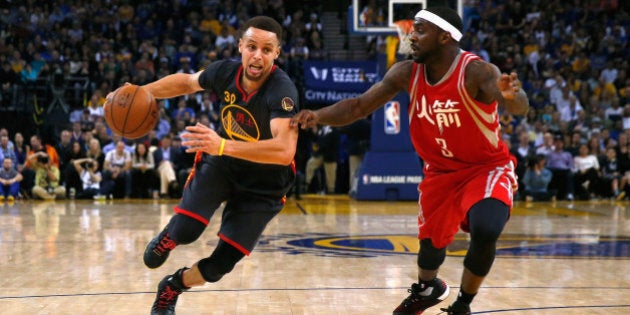 If you're into sport, you'll love this four seconds of genius by the Golden State Warriors in their match this week against the Houston Rockets.
If you're into the side of sport which showcases balletic skill and finesse rather than power or brutality, you'll really love it.
This was amazing. Is amazing. Will be regarded as amazing for a long time to come.
It's four seconds of smooth, slick basketball artistry which at first glance isn't the most spectacular thing you ever saw. It's not some seven-foot monster smashing the backboard, or a miracle buzzer-beating shot from impossible range.
This was not a heavy metal solo but an orchestra in perfect harmony. The pass to (last year's season MVP) Steph Curry. Curry's deft behind-the-back flick pass to (last year's Finals MVP) Andre Iguodala. Yeah, this team has some talent.
Iguodala then floats a perfectly weighted pass to Brazilian player Leandro Barbosa, who performs -- and here our basketball jargon falls a little short -- what you might call a semi alley-oop layup thing.
This all sounds a little unremarkable when you spell it out, but that's because sport can elevate us to a place beyond words. Not often, but sometimes. This was one of those times.
Who needs the Harlem Gobetrotters? The Warriors are a real team and a trick team all in one. Here it is again. It's so good it deserves embedding twice.
For the record, Golden State won the match 123-110. The game was 81-all when the move happened. It was the moment that clicked the home team into gear.
The defending champs now boast an incredible record of 47 wins, four losses for the season. The best ever regular season was 70-12 and the Warriors look increasingly likely to break it.
Australians will be pleased to hear that Andrew Bogut continues to make a huge contribution for his side.
"Bogut was phenomenal," said Warriors coach Steve Kerr, of the Aussie who notched 13 points, 11 rebounds, three steals and a season-high six blocked shots.