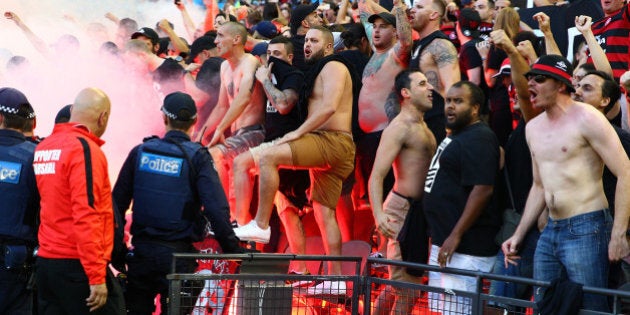 Football Federation Australia has fined the Western Sydney Wanderers $50,000 and issued a 12-month suspended 3-point deduction.
The penalty is for fan behaviour at the game against Melbourne Victory in Melbourne last Saturday night, which ended in a 1-1 draw on the field, but which culminated in a scoreline of Stupidity 19 Sense 0 off the field.
We say 19, because that's the number of flares let off by Western Sydney Wanderers fans. Detonators were also let off and unauthorised banners unfurled.
The Wanderers issued a statement earlier this week blaming its Melbourne-based supporters, but FFA chief David Gallop today put the club on notice that he doesn't care who or where makes trouble. He simply won't tolerate it.
"These incidents are nothing short of deplorable," Mr Gallop said in announcing the penalties.
"Let me be clear, this is criminal behaviour. It saddens me that the game and good football people have their reputations damaged this week."
The FFA boss said there was "more than anecdotal evidence that families left the stadium" (presumably because they were intimidated by the Wanderers fans).
Soccer has been fighting a public relations battle in Australia for months now after 198 banned fans were named and shamed by a Sydney tabloid at the start of the 2015/16 A-League season.
Soccer people have rightly pointed out that a) the paper had no right to do that and b) many of the people banned had not had a chance to appeal.
But that issue -- combined with the very real problem of misbehaviour among Wanderers fans and fans of some other clubs -- has left David Gallop in a position where he knows he has to send a strong message.
"These troublemakers can't be allowed to dominate the way this game is viewed," he said.
"Part of the penalty today is to remind good football people that we want to protect their reputations."
"We're looking for good football fans to be vigilant in relation to this [bad] behaviour," Gallop said.
"This is a message today to say you've got to get on top of this stuff. There needs to be a threat to say this can't happen again."
Gallop said the FFA would introduce a national flare management plan, details of which would be unveiled on Monday.