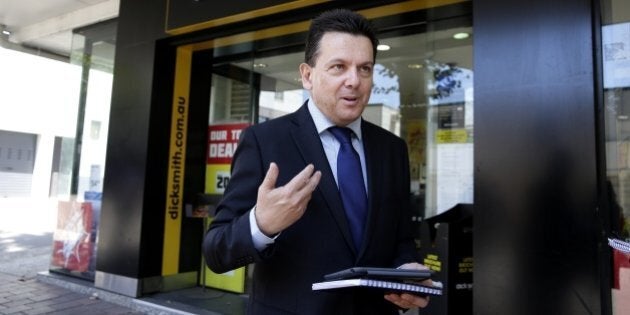 Senate estimates week is a potentially scary time of the year in Canberra, as senators get the chance to grill their fellow parliamentarians, public servants and more about what they've been doing and why. Hearings regularly exceed 12-hour days, running long into the night as some answer questions for hours at a time, being examined on the minutiae of their jobs.
Preparation for both senators and witnesses is tough, with detailed questions, and answers for every conceivable question, needing to be prepared. Sometimes an answer just isn't forthcoming.
In the senate estimates of 2016, not even Siri has all the answers.
The digital assistant that comes standard with Apple iPhones and iPads can tell you the weather or make an appointment in your calendar, autodial your mum or send a text -- but, apparently, it cannot give an answer to a detailed question from South Australian senator Nick Xenophon.
Xenophon, grilling a witness at the Senate Foreign Affairs, Defence and Trade committee yesterday, seemingly forgot to turn off his iPad. Asking a question, the witness paused momentarily before answering, and Siri jumped into the awkward silence.
"I'm really sorry about this, but I can't take any requests right now," the robotic female voice called, echoing through the quiet room.
As laughter erupted in the room, a fellow senator chided Xenophon for leaving his electronics on: "Senator Xenophon, you will of course be buying [drinks] for the entire room this evening," the man laughed.
"There are some very, very thirsty people out there."
A clearly embarrassed Xenophon fumbled for the 'mute' switch, quickly adding "I'm switching to Android [devices]."
UPDATE: Senator Xenophon told us that he was "breaking up with Siri."
"My Apple device seems to have so many gremlins in it. I'm thinking of switching to Samsung or Sony," he told The Huffington Post Australia. He said he has had numerous problems with the voice-activated controls on his iPad and phone.
"I have to do it, I have to be brave. Like any breakup, it won't be easy, but I have to do it. There's nothing like being humiliated by someone you were so close with."
On the point of his obligation to buy drinks "for the entire room," Xenophon said he hadn't paid last night, but hoped to shout the committee a round of South Australian fruit juices and Coopers' beers.
"I think Apple should be paying for the drinks, really," he laughed.