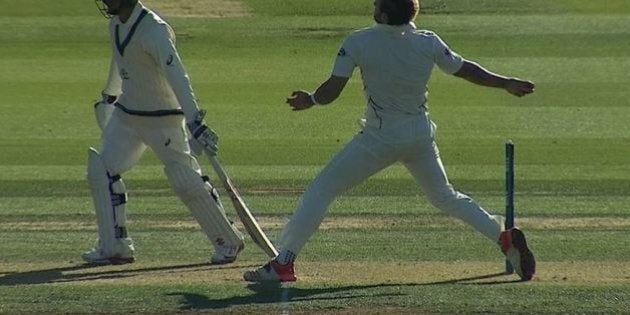 Australia is in a nice strong position at stumps on day one of the first Test at the Basin Reserve in Wellington.
The visitors finished on 3 for 147 with Usman Khawaja unbeaten on a watchful 57 off 96 balls, while Adam Voges survived a last over scare to remain 7 not out.
Did we say "last over scare"? What we should have said was an absolute howler by Umpire Richard Illingworth, who is in urgent need of a visit to the nearest optometrist. Kiwi right-armer Doug Bracewell bowled Adam Voges with a nasty in-ducking ball but the umpire extended his arm to rule an illegitimate delivery.
Replays clearly showed that a big chunk of Bracewell's foot was behind the line. So in other words, Illingworth got it about as wrong as you can get it, which made everybody predictably angry. It also brought into the spotlight another of the ridiculous inconsistencies in the Decision Review System.
Under the system, the third umpire checks for a no-ball every time a wicket falls. But if one of the field umpires rules a no-ball, there is no recourse to overturn it. Cricket must clean up this mess and clean it up fast.
Earlier, Australia bowled New Zealand out for a paltry 183, thanks mainly to great bowling by the two pace spearheads and a memorable innings-ending catch from Usman Khawaja.
Khawaja showed all the skills of a seasoned T20 and One Day star as he snared a high ball from the bat of Trent Boult just inside the boundary rope.
His momentum was taking him out, which would have made the shot a six, but he cleverly threw the ball in the air, stepped out, stepped back in, and completed the catch. Ussie. Ussie. Ussie. Oi. Oi. Oi.
Earlier, Australian captain Steve Smith won the toss and sent the Kiwis in on what everybody was calling a "raging greentop". If you're not really into cricket, a raging greentop is not some sort of furious emerald jumper, but a pitch with plenty of grass.
Said turf coverage enables fast bowlers to move the ball off the wicket, and Australian pacemen Josh Hazlewood and Peter Siddle duly capitalised, with ball after ball on a good line and length. The hapless New Zealand top order could barely avoid getting edges. The first five batsmen all fell to catches behind the wicket.
Hazlewood took a polished 4 for 39, looking every bit the leader of the attack. Siddle was just as good. The Victorian vegan is the unsung hero of Australian cricket, and has been for a while. He was as miserly with his bowling as a New Zealander is with their vowels.
Friday's effort of 3 for 37 took Siddle's Test bowling average below 30 (a measure of how many runs a bowler concedes per wicket). The 30 mark is generally the sign of a bowler of true international quality. He also moved to equal 14th on the all-time list of Australian wicket-takers in Tests.
Interestingly, Siddle's average delivery speed was just 127 km/h, which places him firmly in the trundling medium pace class of bowler. But his success in the New Zealand first innings came with guile and accuracy rather than speed and intimidation. Maturity is the most under-rated quality in sport, and perhaps in life.
Nathan Lyon also chipped in with a brace of late wickets, finishing with figures of 3 for 32
The only real disappointment for Australia -- apart from a feisty last wicket stand of 46 -- was Jackson Bird, who returned to the Australian team in place of the injured James Pattinson for the fourth Test of his career, and his first since 2013.
Bird sent down 10 unimpressive overs for a One Day-style return of 0-52.
Australia started in a very wobbly fashion, losing both openers with only five on the board. But Steve Smith and Usman Khawaja calmly took the score to 131 before the captain fell to a low caught-and-bowled to spinner Mark Craig for a classy, if slightly streaky, 71.