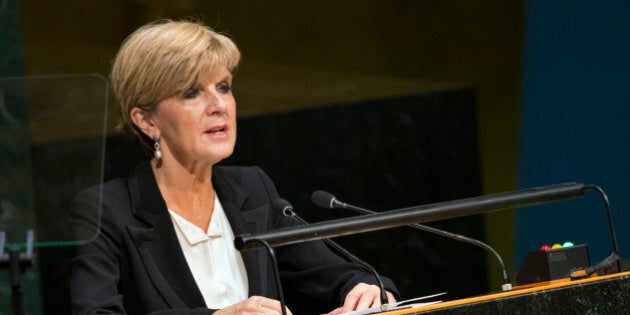 Foreign Minister Julie Bishop wouldn't be the first person to describe Australia's new deputy leader, Barnaby Joyce as "not boring".
Joyce was elected Nationals leader last night after Warren Truss announced he was retiring and won't stay on as Deputy Prime Minister until March 17, as he'd originally planned.
Joyce was elected unopposed by the 21-strong Nationals party room, offering the party the chance of a much higher profile than it usually has. (For starters, Joyce is one of very few politicians universally referred to by his Christian name)
In a fun, light hearted interview on the Nine Network's Today Show, Julie Bishop was asked whether she believed Prime Minister Malcolm Turnbull will 'get on' with his new deputy Joyce.
"They get along fine. They have respect for each other. It's a lot of fun. He is certainly not boring. You can say a lot of things about Barnaby but he is not boring!" Bishop said.
Bishop also told the Today Show she starts her day at 5am, scanning the newspapers, followed by a long chat to the PM before running between 6-10kms a day -- no matter where in the world she is.
"I've run through Beijing, Washington, Mumbai -- everywhere I've visited for work. It's a great way to get to know the city. You really feel the vibe when you're running through the city streets."
Bishop spoke about 'challenges' when talking to some world leaders; including Vladmir Putin -- particularly in the wake of former PM Tony Abbot's threats to 'shirtfront' the Russian leader.
"I had the opportunity to meet him shortly after Tony Abbot had used the shirtfront phrase. So I took the opportunity to 'button hole' him. We had a good twenty-minute chat in English. He speaks very good English, which I wasn't expecting.
He was very charming but he was determined to put across his point-of-view. He listened to me, we had a strong exchange of views. Then when one of his interpreters noticed we were lapsed in a gaze, he came over and took over in Russian. But Putin was very charming, very charismatic."
When praised about her 'fabulous' sense of clothing style, Today host Lisa Wilkinson wanted to know where and when Bishop has time to do her shopping.
"I've become very good at shopping on the run. I was walking through an airport recently, noticed a great pair of shoes on sale. I stopped and called through the doorway, 'Do you have those in 37 ½?" I managed to buy the shoes before my team had even noticed I had slipped away."