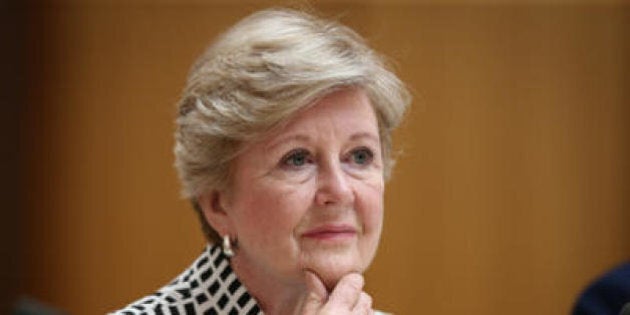 Twelve months following the delivery of the Australian Human Rights Commission's The Forgotten Children report on children in immigration detention, President Gillian Triggs reflects on a year which brought criticism and heightened public awareness.
"It has been a tumultuous year but at the same time, the advantage that came from it was that the public are now more informed than they were," Triggs told The Huffington Post Australia.
It tabled the AHRC's National Inquiry that spanned both Labor and Coalition governments over 2013-14, finding that prolonged, mandatory detention of asylum seeker children was both unlawful and harmful to their mental and physical health.
The ruling led to increasing tension between the federal Government and the states, with several leaders -- including Victorian Premier Daniel Andrews and NSW Premier Mike Baird -- offering save haven to refugees.
"Their line was that we should have brought (the report) against the former government, not the present government," said Triggs.
"That's why they decided to attack me, as President, and the Commission. They knew the contents of the report couldn't be criticised because it was accurate and evidence-based, and indeed reflective of the Department of Immigration's statistics."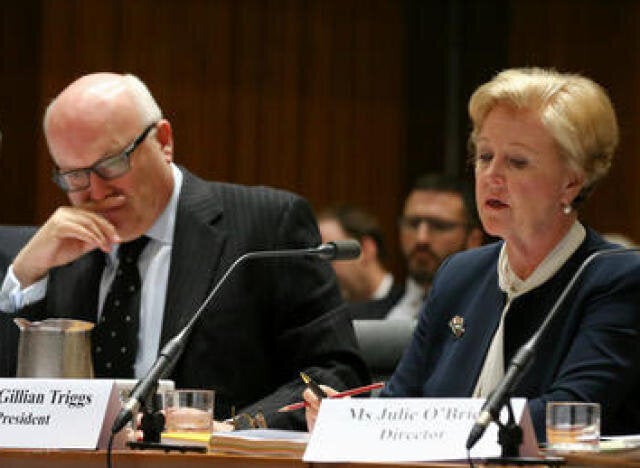 The Inquiry and subsequent report revealed that 34 percent of the children visited -- on Christmas Island, Nauru and in mainland centres -- had moderate to severe mental illness, compared to 2 percent of children in the Australian community. Over a 15-month period, there were 128 documented incidents of self-harm and 27 incidents of voluntary starvation involving children.
Particular concerns were expressed over children being detained in Nauru through evidence of their deteriorating health as well as reported incidents of harassment and abuse.
The Commission called for all children held in immigration detention in Australia and Nauru to be released into the community, among other recommendations.
"Over the time that we conducted the Inquiry and the report, the government has released several hundreds of children and their families by placing them in community detention or granting them bridging visas," said Triggs.
At the time of the Inquiry, 1006 children were in detention facilities in Australia and 132 children were detained in Nauru.
As of November 30 2015, 104 children remained in detention on the mainland with 70 children in Nauru. Following recommendations made in the report, that detailed harsh and cramped living conditions, all children had also been removed from Christmas Island detention facilities.
According to Triggs, current statistics reveal 91 children remain in closed detention on the mainland, with 80 of those children at the Wickham Point Detention Centre in Darwin. 70 children remain in the Regional Processing Centre (RPC) in Nauru.
"They are now being held for unprecedented periods of time. When we started (the Inquiry), the length of time for which children were detained was, on average, one year and one month.
"It becomes of increasing concern, particularly on Nauru, where they are being held for two and a half years or more."
Continuing their ongoing monitoring of Australian detention, the AHRC conducted a visit to Wickham Point in Darwin in October 2015.
"When we got to Wickham Point, the figures on mental impacts for children were higher than we have ever seen. The situation is getting progressively worse, and it is being confirmed by each of the subsequent reports," said Triggs.
The visit was led by two consultant paediatricians who interviewed and assessed 69 children and the families of 15 children detained at Wickham Point, many of whom had previously spent time in Nauru and were at risk of returning.
The results of the visit were tabled in a follow-up report released on February 4 and revealed 95 percent of those children aged over eight years old were at high risk of developing Post-Traumatic Stress Disorder.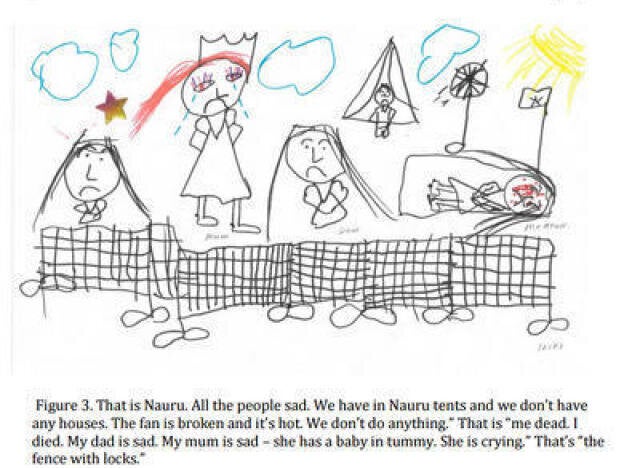 "These children are among the most traumatised we have ever seen in our professional experience," Professor Elizabeth Elliott told The Huffington Post Australia.
"From a medical point of view, it is distressing to see young children who are talking about self-harm and suicide. It is distressing to see children who are regressing in their behaviour, and children with physical problems who are not in a situation to receive adequate care," she said.
"We have detailed in the report some of the conditions that they described in Nauru: the sharing of tents, the limited showers, the guards who frighten the children…a 17-year-old boy said, 'you can do anything to me, but don't return me to Nauru.'"
According to Professor Elliott, the findings confirmed those introduced by the Forgotten Children report, with greater severity.
"There is absolutely no doubt that prolonged detention harms children's mental health and we felt that there was inadequate recognition of the severity of the mental ill health in these children. There was also a mismatch between their needs and the availability of services," she said.
The Commission remains concerned that the recent High Court decision to uphold the legality of the federal government's offshore refugee program will see many of the children detained at Wickham Point among the 267 refugees transferred to Nauru, further compromising their health and putting Australia at risk of breaching its international obligations.
Whilst the government has announced it will not be retreating from its strict border protection scheme, Professor Elliot welcomed the decision to monitor each child on a case-by-case basis.
"I was initially disheartened by the lack of formal response from the government to the Forgotten Children report. It was almost disregarded and that was insulting.
"But I think the media that has surrounded the recent High Court decision combined with the decision by the AHRC to release our (second) report has reignited support in the community," said Elliott.
"If we have children in our care, and we have put them in these centres, we should be responsible for ensuring that they receive adequate support… Until the Forgotten Children report, these people weren't visible at all to the Australian public."
Looking forward, AHRC President Triggs remains hopeful.
"I am very optimistic about the future, partly because the numbers are going down as they have done," she said.
"I am also optimistic that with a new Prime Minister -- and hopefully an election -- we will have a more humane mandate to ensure that we look after the people that are already within our protection.
"We are part of a global environment and Australia cannot solve the problem by pushing boats back onto our neighbours and refusing to play a proper role in managing this now huge world problem of 60 million refugees and displaced persons."