Sydney may finally have the hero it needs, after Iron Boy defeated Ultron on the steps of the Sydney Opera House and rescued make-a-wish newsreader Hope Joy following an urgent request from police, the premier and Iron Man himself.
Nine-year-old Domenic was called upon by NSW Police Commissioner Andrew Scipione to help rescue Joy after henchmen of Ultron Prime kidnapped the fictional newsreader and held her captive on Sydney's Clark Island on Thursday.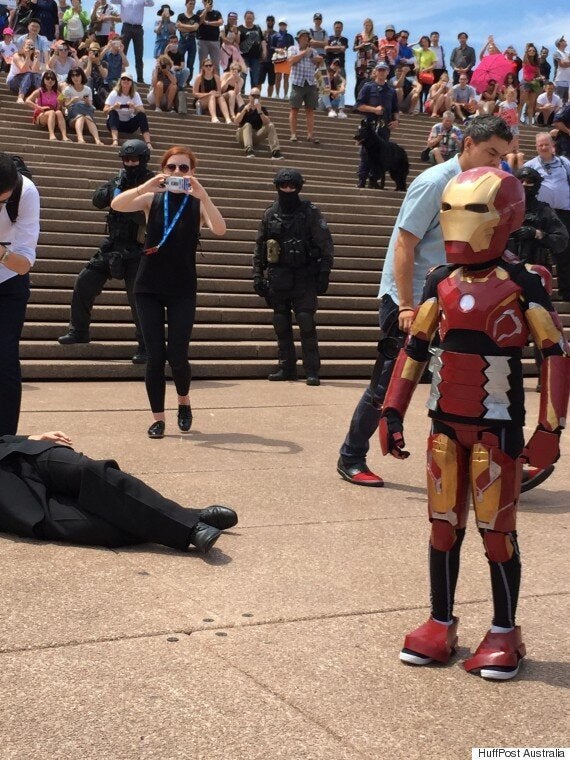 Iron Boy moments after taking down one of Ultron's henchmen
Before he had time to celebrate his victory over the evildoer's cronies, Domenic received word the evil cyborg Ultron was threatening the Sydney Opera House. But the hero was undeterred, quickly defeating the robotic monster and his gang with well placed blasts from his repulser cannons.
After the villains were led away in cuffs and asked if he was seeking the fame, the humble hero told reporters he didn't know what that means.
"I think that means no," NSW Police commissioner Andrew Scipione said.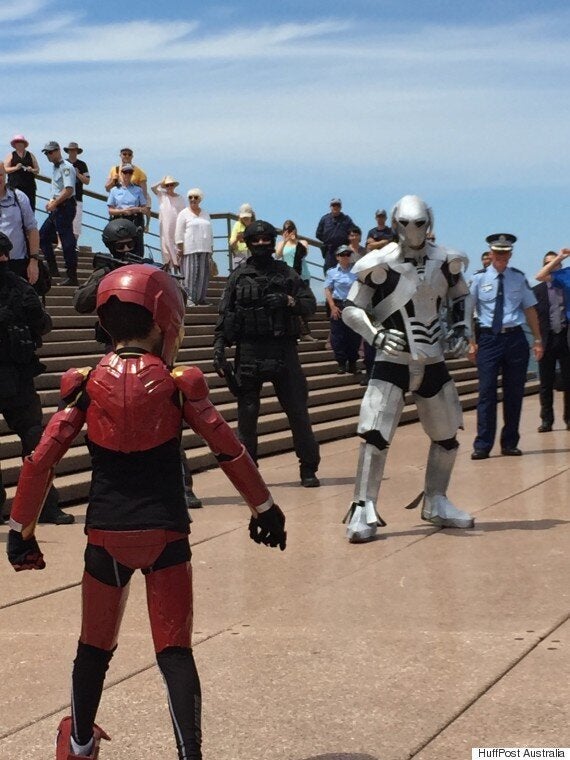 Iron Boy and Ultron face off
Iron Man tweets his support for Domenic as he prepares to take on Ultron
Domenic has cystic fibrosis, a genetic disorder that typically affects the lungs. But just like his superhero namesake, he easily took down Ultron's henchmen on Thursday.
Police and the Make-A-Wish foundation asked the Western Sydney based hero, aka Domenic Pace, for help, presenting him with the specially made superhero armour reminiscent of Marvel's Iron Man.
"Iron boy, we need your help," commissioner Scipione said in a special video message to Domenic aired at Parramatta police headquarters.
"Officers have confirmed that Clark Island has been overcome by Ultron's henchmen and Hope Joy is being held captive.
"If I could make one wish, it would be for you to help us, Iron Boy."
The hero's response? "Let's get down to business," he said.
Donning his armour, Domenic was whisked away on a police speed boat to Clark Island to rescue Joy before being summoned to take on Ultron.
Celebrities and politicians tweeted their encouragement as the #IronBoyAU began to trend on Twitter, and a crowd of hundreds turned out at the Opera House to witness the titanic battle.
"He's a very caring chlid, more interested in helping people and children rather than playing with toys," his mother, Nichole, said.
"He always wanted to know what's going on around hm in the world, how he could help others.
"The final straw was when he stood up at the dinner table and said 'I am Iron Boy.' Pretty much had to go with it then."
Domenic was presented with a medal of valour on the steps of the Opera House by Comm. Scipione.
"He gets out of bed every day and he's brave, every day. To be associated with that, to recognise him, and all those kids just like him, it's a real honour for us as police force to say thank you," Scipione said.
After the ceremony -- and with Ultron and his cronies safely behind bars -- Iron Boy said fighting Ultron was the best part of his day.
And his secret to defeating him?
"Just remembering parts of the movie," Domenic said, adding encouragement from the actual Iron Man made him feel awesome.
"Those henchmen they think they are so awesome. No they're not.
"Stay out of town, dude."
And if he had a real power?
"To heal," he said to cheers, before explaining that heroes need that kind of power when tackling evil.
Make a wish grants roughly 500 wishes a year, but aims to increase that number to 2000 within the next decade, a spokeswoman told the Huffington Post Australia.
The special event may remind readers of the time Batkid teamed up with the charity and saved San Francisco from certain doom in 2013.