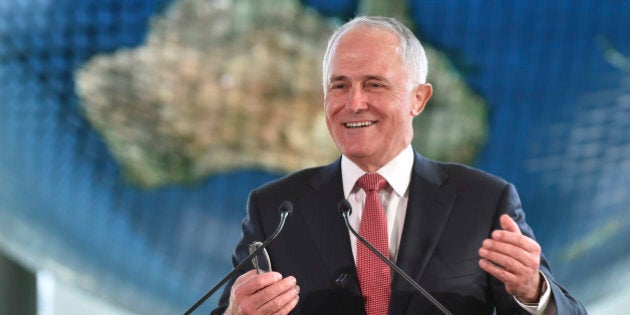 CANBERRA -- He may be Mr 80 percent approval, but Prime Minister Malcolm Turnbull is under fire from all sides at the moment as he fights numerous battles on an increasing number of fronts, against sworn enemies, supposed allies -- and even himself.
Despite this, Turnbull's polling numbers have barely dipped. Indeed, a late January poll saw the PM take an 80-20 lead over Labor leader Bill Shorten as preferred prime minister. Despite the political challenges on all sides, the PM is as publicly popular as ever, the controversy not taking the shine off his sparkling image and record.
However, just one week's worth of political brewings -- from the High Court decision on the legality of detention on Nauru and the near-universal revolt of state premiers both Liberal and Labor over the government's intention to send refugees back to the tiny island; the flip-flopping "will-he-or-won't-he" on a potential rise in the GST; backbenchers publicly undermining Turnbull's preferred plebiscite on same-sex marriage, the ministers dropping like flies and a much-needed cabinet reshuffle, and Labor's sustained, relentless attack on embattled Human Services Minister Stuart Robert -- has given the Silver Fox far more headaches than he may have hoped for in the first weeks of an election year.
Shorten spent the opening of 2016 criss-crossing the country visiting supermarkets and schools with just two objectives; drumming up support for Labor's education plan, and mentioning the words "Malcolm Turnbull" and "15 percent GST" in the same sentence as many times as possible. While the government has been talking about tax reform for some time, and Turnbull and others continually saying "nothing is off the table," the relentless drumming in by Labor of fears of a 50 percent jump in the goods and services tax has forced a quick rethink from the government.
Whether they truly planned to bump up the GST or not, or even if they were entertaining the possibility, that option seems to have been pulled off the table. Turnbull and treasurer Scott Morrison have been walking back the idea of a GST rise in recent days. Some state premiers had been licking their lips over the chance of a new flood of revenue, so the apparent scrapping of the plan may have some repercussions down the road. Some on the Labor side are now attacking the GST debate on both sides, with Doug Cameron on Monday taking a swipe at the government for backing down.
On refugees, a vociferous outcry over the prospect of sending sick and traumatised asylum seekers back to Nauru saw a number of churches and the religious fraternity criticise the government, with some going so far as to publicly offer "sanctuary" to refugees despite the legal hurdles and dangers such actions may hold. A Liberal PM can't exactly criticise churches for harbouring maligned and traumatised people. Again, the state premiers gave the federal government a headache by publicly calling for compassion and offering to house and care for the affected refugees. Most were Labor premiers, but Liberal NSW leader Mike Baird added his voice to the calls too.
On the release of the Closing The Gap report this week, Turnbull reached out a hand to indigenous leaders to help shape the future of indigenous equality. Indigenous leader Mick Gooda said after years of similar proposals but little follow-through, "I think we're entitled to be a little bit cynical about it until it starts happening." It was not quite the response Malcolm had hoped for.
Despite publicly supporting a free conscience vote for politicians on the question of same-sex marriage -- "I've made it very clear actually before the last election that I favoured a free vote," Turnbull has said in the past -- and despite both supporters or opponents of same-sex marriage publicly rubbishing the idea, the PM is pushing for a plebiscite on the issue. Backbenchers like Eric Abetz have said they will not be swayed by the outcome of the national poll, while Australian Marriage Equality says the idea would be a waste of money and time. However, Turnbull has said he will honour the plan of former PM Tony Abbott, who had committed to a plebiscite on the issue.
Which brings us to Turnbull's most important and potentially damaging opponent -- himself. He ascended to the top job and unseated Tony Abbott on a platform of bringing more palatable policies to the electorate, being less divisive and more co-operative than his predecessor. But on the major issues he has faced in his nascent stint as PM, Turnbull has defaulted to Abbott's position -- pushing marriage equality plebiscite, not quivering one inch on refugee policy -- and whispers of disunity in the party have followed.
More damaging yet is how ill-at-ease Turnbull seems when enforcing these policies. This is the same Turnbull who cultivated a reputation as a left-leaning Liberal, socially progressive and with a more 'human' side than some of his Liberal colleagues. When he says things like "people who seek to come to Australia with people smugglers will not succeed. They will not settle in Australia," as he did on ABC's Insiders program on Sunday, he does not seem comfortable. He does not seem like he truly supports the words he is saying.
Turnbull has a job ahead of him to deal with all the problems he is already juggling, and it's only the second week back at school.