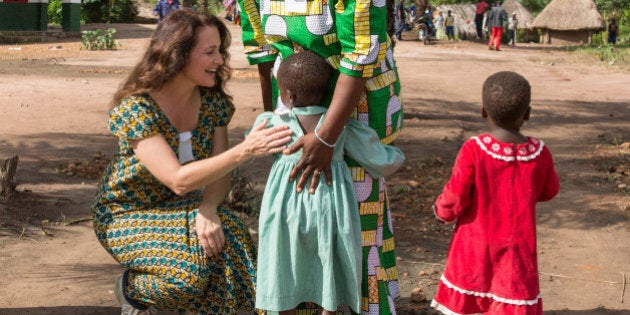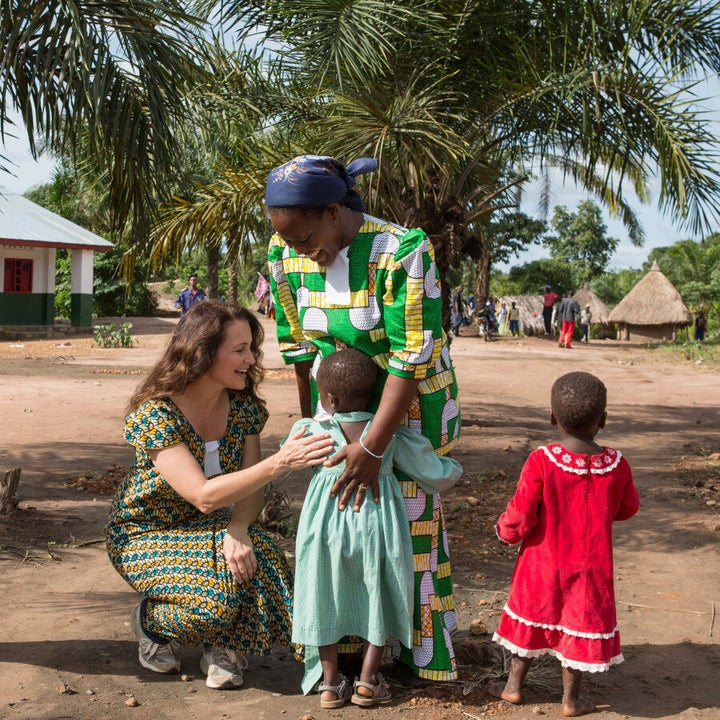 "They said 'come, come, this way. You have to come this way'. So I went. And on the ground there was a woman. I asked why she was sitting on the ground in the dust, and I was told that she had polio and was unable to walk. She had been living in South Somalia where they did not allow vaccinations. She started telling her story while crying quietly. Her friends and family had set out [for the refugee camp] together. She had five children when she left, and she had lost two of them on the way. The clothes from her body had been stolen. She had been raped. Her husband had been killed. When she [reached the outskirts of the camp] she had her three remaining children with her. They were hoping I was a doctor because there was something wrong with one of her children. She kept trying to show me a wound on her child. I had no medical equipment. It was one of those times that I was desperately wishing 'why am I not a doctor?'"
So is the reality in Dadaab, Kenya -- the largest established refugee camp in the world, and certainly countless other camps and refugee communities. Kristin Davis can tell this story, and many others like it, because she's witnessed them.
Most famous for her role as Charlotte in Sex And The City, the American actress has been a long time humanitarian, philanthropist and animal activist. She's the Global ambassador for Oxfam, works with The David Sheldrick Wildlife Trust -- a program in Kenya focused on raising orphaned elephants and rhinos before reintroducing them into the wild -- and last week was in Australia with Australia for UNHCR, a not-for-profit which raises funds to provide life changing support for displaced and stateless people.
Davis had what can only be described as an 'interesting' visit to Australia last week. I received an invitation to interview her through Australia for UNHCR. The invitation detailed some shocking statistics around refugees, including the fact that 40 percent of rapes happen when women and children venture out in search for food and that 80 percent of displaced people and refugees are women and children.
The statistics alone are shocking. The issue has nothing to do with Davis's acting career; her humanitarian work speaks volumes without any mention of 'Sex And The City'. Speaking with The Huffington Post Australia, Davis detailed the work of the charity and her experiences on the many visits she has made to the Democratic Republic of Congo, Kenya and Somalia.
"In Dadaab the influx of refugees was greater than the capacity of the camp. There is a very involved registration process [for arriving refugees]. You have to get a number, you have to be officially registered to be in the camp and receive the services -- I don't think people realise that -- and the registration people had been overwhelmed by the incoming refugees. There were these women who had come from Somalia and they had collected rags -- literally pieces of fabric that were torn -- and they had collected them to put in the trees to try and make a makeshift tent to create an area where little children could sleep together. This one particular woman we spoke to at length had collected seven children along the way who had lost their parents. Their parents had been killed or whatnot, we don't know, so she would take the children with her. To see what she had been able to create with literally nothing was incredible. I am so impressed with their resourcefulness and resilience."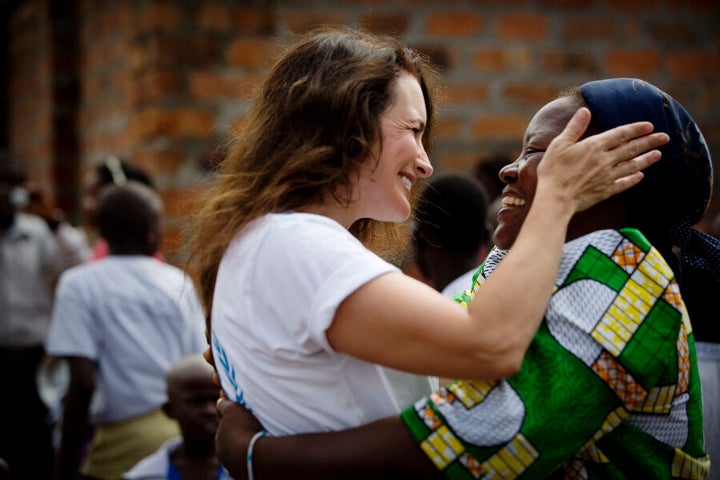 Davis has worked with Oxfam and UNHCR since 2001. Impressively, Australia for UNHCR raises the most funds from the private sector and individuals to support these areas of any country in the word -- a fact that impressed Davis given Australia's relatively small population and lengthy distance from these crisis areas.
During a charity lunch on Friday, Australia for UNHCR launched the 'I will' campaign, which asks people to start conversations around this important issue, or take further action. Davis put it perfectly at the lunch when she stated that "we can't make things better if we can't talk about them. Not talking about things that are real to women, hurts women".
The campaign encourages people to visit refugeewomen.org.au where consumers can read refugee women's stories, or by sharing a pledge on social media through the hashtag #iwill. By raising awareness and funds for these causes, UNHCR are able to continue their work in providing supplies and services -- such as the 'Refugees United' website -- a Facebook-like forum where displaced people can seek to locate lost loved ones.
Davis's passion is more than apparent; she personally donated a $10,000 diamond necklace for the auction. And she's humble when it comes to any praise. She says that she has never really viewed herself as a humanitarian, but more as a witness. Growing up in the South of the United States, Davis had an ordinary childhood and dreamed of traveling, though didn't travel abroad until her late teens. It was on a Safari in Africa that she first encountered a glimpse of the reality in these countries when she witnessed a man with AIDS at a local livestock market. It was then that she began to question the truth behind the tourism veil, and from that her journey began. She also attributes her dedication to being surrounded by strong women in her life.
"I have a grandmother who is turning 107. Her name is Flossie and she comes from Appalachia, in the mountains of North Carolina -- hillbilly country, basically -- and she grew up on a creek where there was just a dirt path. We would go there when I was little and I remember my great grandmother in this dilapidated house in her rocking chair, and my dad would take his recorder and record her stories. Now my grandmother, who is 107, had moved down to South Carolina with my parents -- though she lives in her own apartment I should mention. She lived with my parents for a while but she thought it was boring -- there was no bingo, no possibility of winning chocolate bars -- so she was out of here. So I have had a lot of really strong women to watch, strong in their own way. My own mum is quiet and reserved, but when I was young where I grew up there was still a confederate flag on the top of our capital building. It was still there until very very recently. Every single year my mum would picket to get that flag taken off the top. It took 30 years, but she tried. She also worked at planned parenthood. Back in the day none of my friends mothers did that! She would tell me she was doing it because those women needed to have reproductive rights, and I was like 'okay, cool mum!' She had her own quiet maverick qualities."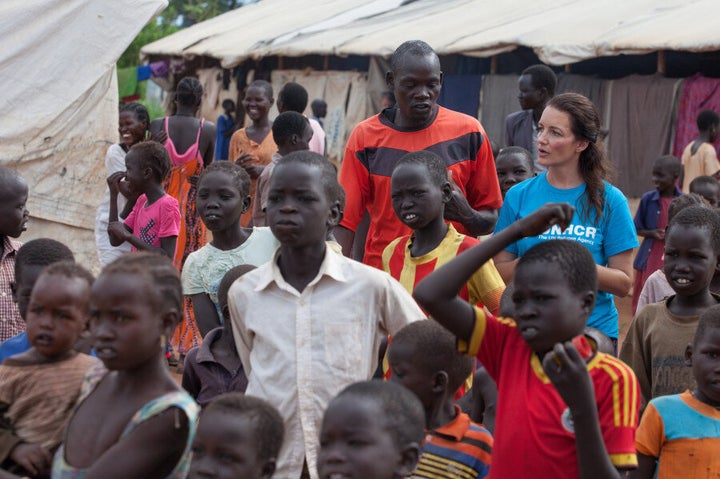 Speaking about her own adopted daughter, something she reportedly rarely does, Davis mused over the fact that she is trying to educate her about the ways of the world while still protecting her from all of the harsh realities at such a young age.
"It's tough. Gemma, my own child, would give over her toys. When she was two in the playground she would give over her toys and I would think "that was so sweet, she knows how to share", but then a wise teacher taught me to advocate that she doesn't have to give up her toys if she's not done playing with them. She was right. Because we tend to think about being polite, but of course on the other hand I want to teach her to speak up for herself and [teach her that] she doesn't just have to hand over everything just because somebody else wants it. It's about having a voice. Speaking up. Talking about what's important, Protecting other women. Teaching younger women they have a voice. Please speak up. We need you to speak up. It's important. We want your voice. We need your voice. My daughter is surrounded by elephants, and videos of giraffes, and mummy with the elephants and the giraffes. I don't show her everything because it can be confronting. She is only 4, but I have shown her some photographs because I want to explain to her why I am gone. I want her to know that it's for a very good reason and I wouldn't leave her unless it was something I felt very passionate about. But I don't want to make her feel like she's living in a horrible world. It's about finding the balance."
I asked Davis what she would like to see happen for these female refugees, beyond being provided with immediate aid, which UNHCR is already working tirely to supply.
"I think the biggest thing is the livelihood training. It has really become the focus, because in the immediate emergencies we do have a very developed structure -- but because the regions are so destabilized, if they don't have a livelihood to create independence they are then subjected, again and again, to being vulnerable to all kinds of horrible violence, where there are no police to turn to, and there just isn't the services there that we take for granted. Having livelihood helps them create a safe space, and a safe space for their children to grow up and go to school."
And what came of the woman with polio?
"Of course there was a doctor in the camp and we ended up getting her lots help. The Handicap International NGO brought her a wheelchair. The friends she had made on her journey [to the camp] set up her makeshift tent close to the latrine so she was able to get water. She was given extra buckets so she could get lots of water, as her remaining children were too little to help. Everyone banded together. There was was such a tremendous community response -- and in the end we found out that her sister came to get her and she was able to go back home."
Donations to Australia for UNHCR can be made here.