Darren Hopes via Getty Images
Realising an important relationship has come to its end is never easy, particularly when it was one you thought would last forever.
However, the simple fact of the matter is sometimes marriages aren't meant to last, despite the best intentions of everyone involved.
While the decision to part ways can be reached mutually (not any less difficult, but at least it's agreed on by both parties), the situation can also arise where one person is ready to throw in the towel before the other.
So how do you negotiate the heartbreak of a marriage breakdown when you're the one still wanting to give things a go?
"It is really tough for the person who is holding out hope," Matt Garrett, spokesperson for Relationships Australia, told The Huffington Post Australia.
"What usually happens is the person [who is leaving] has disengaged emotionally from the relationship, and it is difficult for them to show empathy.
"You will often find there is a mismatch in the emotional affect of both parties."
Unsurprisingly, Garrett said unless there was any real animosity at the time of the split, there is still a lot of love felt, particularly by the person who wanted to stay in the relationship.
"They might be feeling trauma, grief, confusion and just generally having mixed up feelings for their ex-partner," Garret said. " On top of that, you have the impact it has on their everyday lives and the disruption of routine.
"It can be a very difficult time."
Garrett said the first thing he does if presented with a client in a similar situation is to help them realise all the emotions they are going through are completely normal.
"Often through just talking about it, people are able to find reassurance," Garrett said. "It's good to be able to normalise the situation, to tell them, 'it's natural to feel this way. You're not losing it or going nuts.'
"Having said that, you have to be absolutely mindful of their mental health and need to watch out for any alarming signs, such as a tendency to suicide or self-harm."
If the emotions associated with grieving the loss of the relationship are healthy, Garrett said it was perfectly fine to take some time to lick your wounds.
"Absolutely give yourself time. If you're saying, 'I should be over this by now,' my advice would be to give yourself that amount of time again. So if you think it's going to take a month [to recover], give yourself two to three months," Garrett said.
"During this time, it's generally a really bad idea to think another relationship is going to help soothe the pains of the one you've just gone through.
"I also wouldn't risk having sex for a little while, as you're still potentially quite vulnerable and may not be able to read a situation as clearly as you think.
"Sex is very intimate -- some people might not give you that impression, but it is -- and you have to be prepared you might be vulnerable to reading into a situation incorrectly."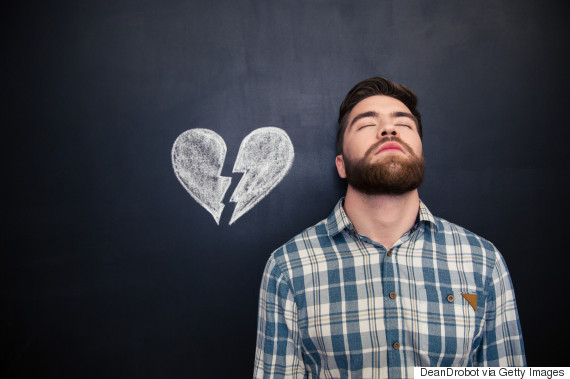 Remember, it will get better.
According to Garrett, you'd be better off spending this time looking after yourself rather than latching onto anyone new.
"Nurture yourself," Garrett said. "I think when people get really down they tend to smoke too much or drink too much, or they don't sleep, or comfort eat and just generally fall apart. That's okay for a little while but it's really important to reinstate your routine back into your life, even if it's to a lesser extent.
"If you can't manage circuit training, go for a walk. If you can't eat a big breakfast in the morning, at least have one piece of Vegemite toast.
"Don't drink too much. While it might numb the pain at the time, it actually makes you both mentally and physically worse off."
Now might also be a good time to catch up with those long-lost friends you somehow lost touch with somewhere along the line.
"Cultivate your friends," Garrett said. "Let's face it, people can tend to neglect their friendships and family when in a serious relationship, it's just something that happens sometimes.
"Then you get the wake-up call that you haven't seen so-and-so in months. Now might be the time to get in touch again.
"Of course, you might have to deal with a bit of 'oh hi, you're just calling me because you're not in a relationship anymore'. You might have to suck a bit of that up. But it's all part of finding yourself again as a single person. That's not to say you are going to remain single, but you are for the moment."
Finally, Garrett encouraged those who are newly separated to remember things will get better.
"Often, after a client and I have been working together for a couple of months, they'll look back and say, 'oh my god, I was a real mess then, wasn't I?'
"It's all about instilling hope in people that they will get through this, and hopefully they do, a little bit at a time.
"You can't get over a broken relationship straight away. It just doesn't happen. You need to mend first."
If you need help in a crisis, call Lifeline on 13 11 14. For further information about depression contact beyondBlue on 1300224636 or talk to your GP, local health professional or someone you trust.